This summer Instituto Buena Bista (IBB) Curaçao has been in the Kunsthal Rotterdam with the third edition of All you can Art: an exhibition, open workshop and summer school all in one. No less than 36 summer school students of all ages and from all backgrounds have been working on their creative development for six weeks in the Kunsthal. On Sunday 26 August we take our leave of all the students and participants and celebrate All you can Art 3 with a closing in which you can admire the joint efforts in the exhibition. Come and join in!
PROGRAM FINISSAGE
| | |
| --- | --- |
| 11:30 | Doors open |
| 12:00 | Official closing of summer school and presentation of diplomas |
| 13:00 | Lunch, followed by art auction of 'We sell reality'  |
| 15:00 | Exhibition visit |
| 16:00 | Joint art jam session. Everyone brings an instrument and we jam together. |
'We sell reality' lunch and art auction
The lunch will be held in a living room restaurant decorated with products of 'We sell reality' by the artists Rieneke de Vries and Elke Uitentuis. They incorporated (artistic) expressions by people who have ended up in a dependent position in this line of products. 'We Sell Reality' is an attempt to find ways in which people can extricate themselves from this position. You can enjoy a vegetarian Ethiopian meal in the living room restaurant in exchange for a donation of no less than € 10 per person. The products that have been made together with the summer school students and visitors during All you can Art 3 will be auctioned on the spot. They include patterns for furniture, paintings and prints inspired by the stories, poems and decorations made by refugees. The proceeds of the lunch and the art auction will be donated to the refugee collective 'We Are Here'.
Do you want to be certain of a place at the lunch? Send an e-mail to educatie@kunsthal.nl to let us know that you want to participate.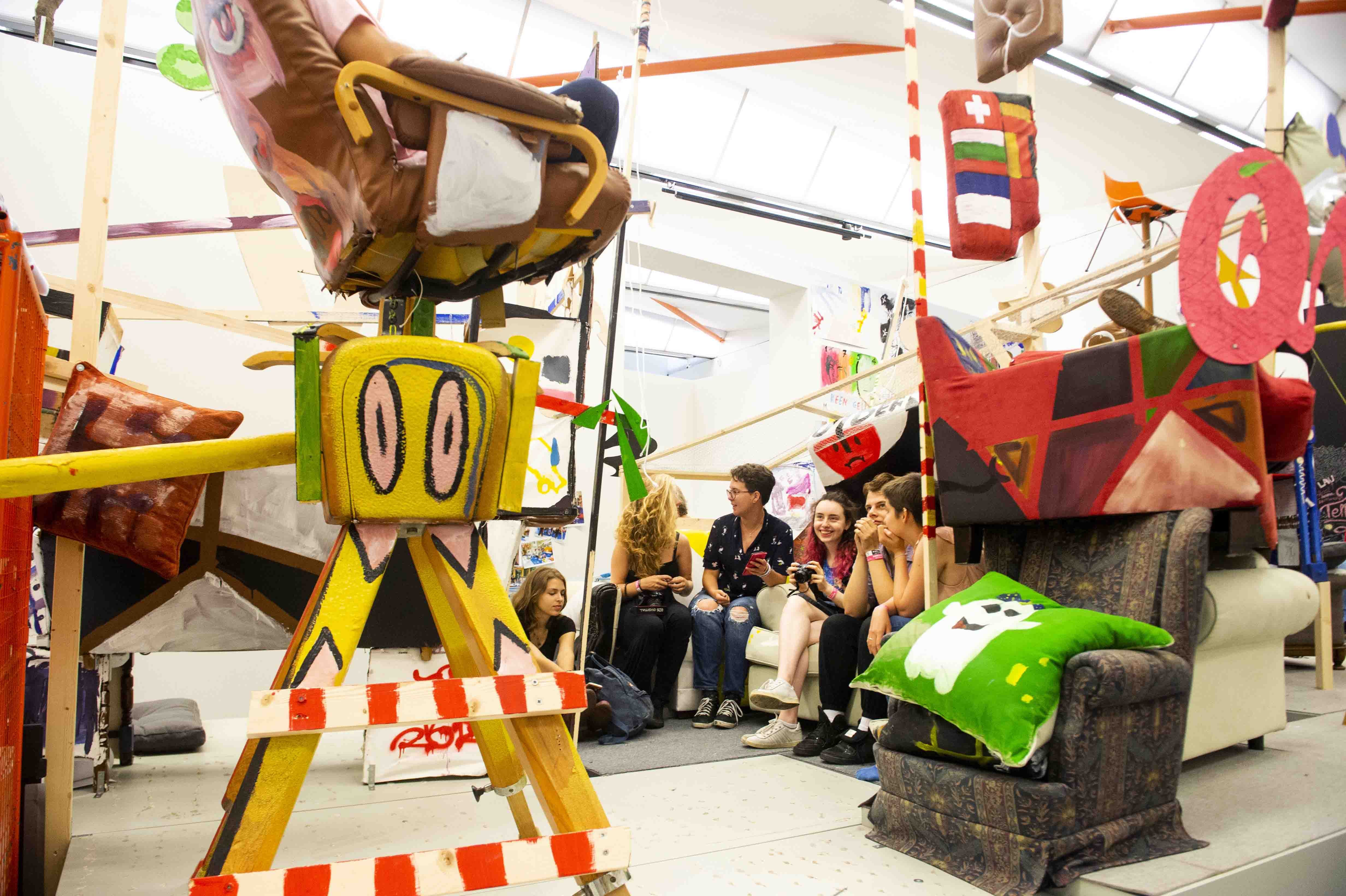 SEE ALSO