On the evening of Friday, 12 October, the International Film Festival Rotterdam (IFFR) and Kunsthal Rotterdam will be putting art and film in the spotlight for the fifth time in MASH-UP! During this jubilee edition: a unique premiere, a special exhibition with a live act and a spectacular party.
We start the evening off with an exclusive pre-premiere screening of the prize-winning film Girl by Flemish filmmaker Lukas Dhont. Afterwards you can roam the exhibition halls of the Kunsthal to see – or rather: touch, smell, feel, hear, experience – a new extensive exhibition entitled Action <-> Reaction: 100 years of kinetic art. The night ends in the Kunsthal Café with a wonderful party to celebrate our five years of putting art and film together.
 
Unique premiere
Girl is the sensational feature-film debut of Flemish filmmaker Lukas Dhont, and tells the story of Lara, a 15-year-old girl born in the body of a boy dreaming to become a ballerina. The leading role is played by the promising young actor Victor Polster, whose impressive performance was awarded with the Un Certain Regard Prize for Best Actor at Cannes Film Festival. That's not the only prize Girl took home from Cannes 2018; the film also won the FIPRESCI Prize, the Caméra d'Or and the Queer Palm for best LGBT film.
Tickets for the film are currently sold out. 
Feel, see, feel, hear and experience Action <-> Reaction!
Action <-> Reaction covers a wide range of kinetic (moving) art. Works by over 80 different artists, from its early applications around 100 years ago until the present day, offer an impressive retrospective of art that appeals to all the senses. The exhibition is a revival of the successful 2013 Paris exhibition Dynamo and is realised in close collaboration with the Grand Palais in Paris. We are also organising a live performance in the exhibition space. Details will be announced shortly.

The exhibition features works of the pioneers  of kinetic art, such as the spinning rotor reliefs by Marcel Duchamp, de mobiles of Alexander Calder and the work of Jean Tinguely and Victor Vasarely. Many established names such as Julio Le Parc, Bridget Riley, Jan van Munster and Dan Flavin can be seen, as well as representatives of the younger generation of artists such as Jeppe Hein, Žilvinas Kempinas and Philippe Decrauzat. All artworks appeal to various senses and, as a result of interacting with the viewer, can lead to extraordinary perceptions. Feel, see, hear and experience the rythms, vibrations, spinning and force fields!
Party 
We will end the evening in the Kunsthalcafé where we will party until deep in the night to celebrate five years of MASH-UP!

19:00 Walk in
19:30 Introduction + film 
21:00 (until 00:00 hrs) Expo 
21:00 Party with DJ en live act (until 02:00)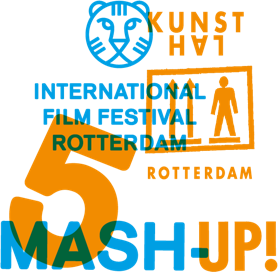 Buy your tickets NOW!
Buy your ticket(s) for the film/expo/party (sold out) or expo/party combination and be assured of a spot.
Film, expo & party €21,50 (SOLD OUT)
Expo & party €14,50