On Sunday 4 October, Afrovibes will take over the Kunsthal Auditorium for a day of dance, video, music and spoken word. Discover the work of, among others, Nana Adjoa (the Netherlands), Ivan Words (the Netherlands), Jelili Atiku (Nigeria), Dox (the Netherlands), and Batalo East (Uganda). Be amazed and get inspired by performances by African and Dutch makers that centre around the festival's theme 'Entanglement'! Reserve your seat at the Kunsthal Auditorium and also get access to all exhibitions.
Entanglement
The theme of this year's festival is 'Entanglement'. While there are great differences in language, culture, lifestyles, and modes of communication between the different cultures in our world, there is also an all-encompassing sense of being connected that we are all a part of. A sense of community also exists during the moments of physical isolation for the benefit of our safety because we are aware of the fact that an individual action by one of us may impact hundreds of others. We are going through all of this together, and we can only solve this together. This solidarity, and the intimacy resulting from it, occupies centre stage during this year's edition of Afrovibes.
The programme
The same programme will be performed twice: from 12:30 to 14:00 hrs, and from 15:00 to 16:30 hrs. The host is the spoken word artist Dorothy Blokland.
12.30 & 
15.00 hrs

Dance performance (45 min)
Symphony of 2020 

13.15 &
15.45 hrs

Musical performance (15 min)
Nana Adjoa 

13.30 &
16.00 hrs

Spoken Word performance (15 min) 
Ivan Words

13.45 &
16.15 hrs 

Film Elàborù (15 min) 
Jelili Atiku
Nana Adjoa
Especially for Afrovibes, the Dutch-Ghanaian musical all-rounder Nana Adjoa will give a mini concert. Her melancholy music is punctuated by poetic lyrics with influences that seem to be coming from all over the place. With deep sounds and grooves, combined with the sound of her idiosyncratic warm voice, Adjoa's music is surprising and original, and has a hypnotising effect.
SYMPHONY OF 2020
A dance performance about the Ugandan and Dutch music scenes, and the power of music. The performance creates a space where people can experience self-expression and solidarity on the dancefloor. With a continuous stream of music acting like an engine, the audience – together with the dancers – are brought in a hypnotising trance. The choreographers will demonstrate how dancing to music enables transcendence, forging a connection between dance and spiritual experiences.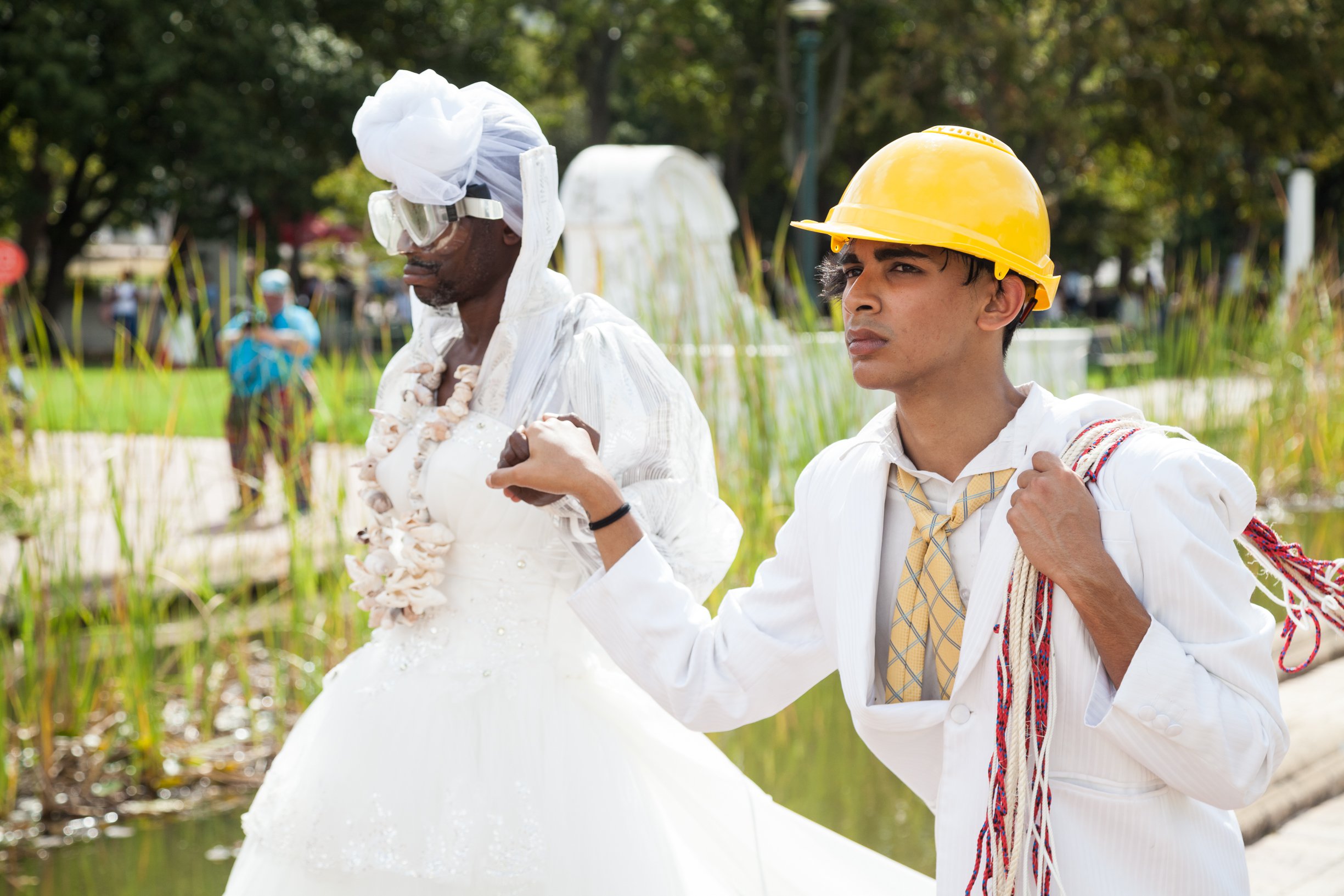 ELÀBORÙ
During the worldwide outbreak of COVID-19, Jelili Atiku realised that, as a performance artist, he needed to protect his body. The film Elàborù is Atiku's personal search for indigenous methods and rituals of the West-African Yoruba people that can help him strengthen his immune system so it is able to fight pandemic diseases.
IVAN WORDS
Ivan Words is one of Rotterdam's most active spoken word poets. He started writing raps, but when the beats failed to follow, Words came to the conclusion that his raps were pure poetry. Many texts followed. He now frequently performs as a spoken word poet, gives workshops, and is a much sought-after guest at events and on the radio.
ABOUT AFROVIBES
For its seventeenth edition, Afrovibes festival is bringing young pioneers and long-established talents in the field of theatre, dance, music, and design from Africa to the Netherlands. Between 1 and 10 October, the festival will be held in the Dutch cities of Amsterdam, Utrecht, The Hague and Rotterdam, and will feature the latest, innovative and corona-safe theatre and dance performances, music and cinema from metropolitan cultural hotspots in Africa.