About the kunsthal
Rental and events
If you are looking for an exceptional location in a dynamic environment for your business or other event, the Kunsthal is the place to be. The iconic building designed by architect Rem Koolhaas offers seven different exhibition areas, a characteristic Auditorium and all the ambience of the Kunsthalcafé. A great place for gaining inspiration and meeting people.
Your event in the Auditorium
The Auditorium is an upward-sloping hall containing 320 coloured Matrix Krueger chairs. For smaller gatherings, the hall can be sectioned off to create an area with a more intimate atmosphere and a seating capacity of approximately 200. The Auditorium is perfect for presentations. talks, film screenings, and music and dance performances.

Do you have any questions? Please contact Bente Lutteke via verhuur@kunsthal.nl or by telephone on +31 (0)10 - 44 00 300.
Made-to-order catering in the Kunsthalcafé
The Kunsthalcafé offers breakfast, lunch, dinner, snacks and drinks for your reception or party. Dinner can be served as walking dinner, sit-down dinner or buffet style. The Kunsthalcafé has its own special atmosphere, with art in and around the café and a large terrace. The Vermaat team is responsible for catering and has a wealth of experience in organising all types of receptions.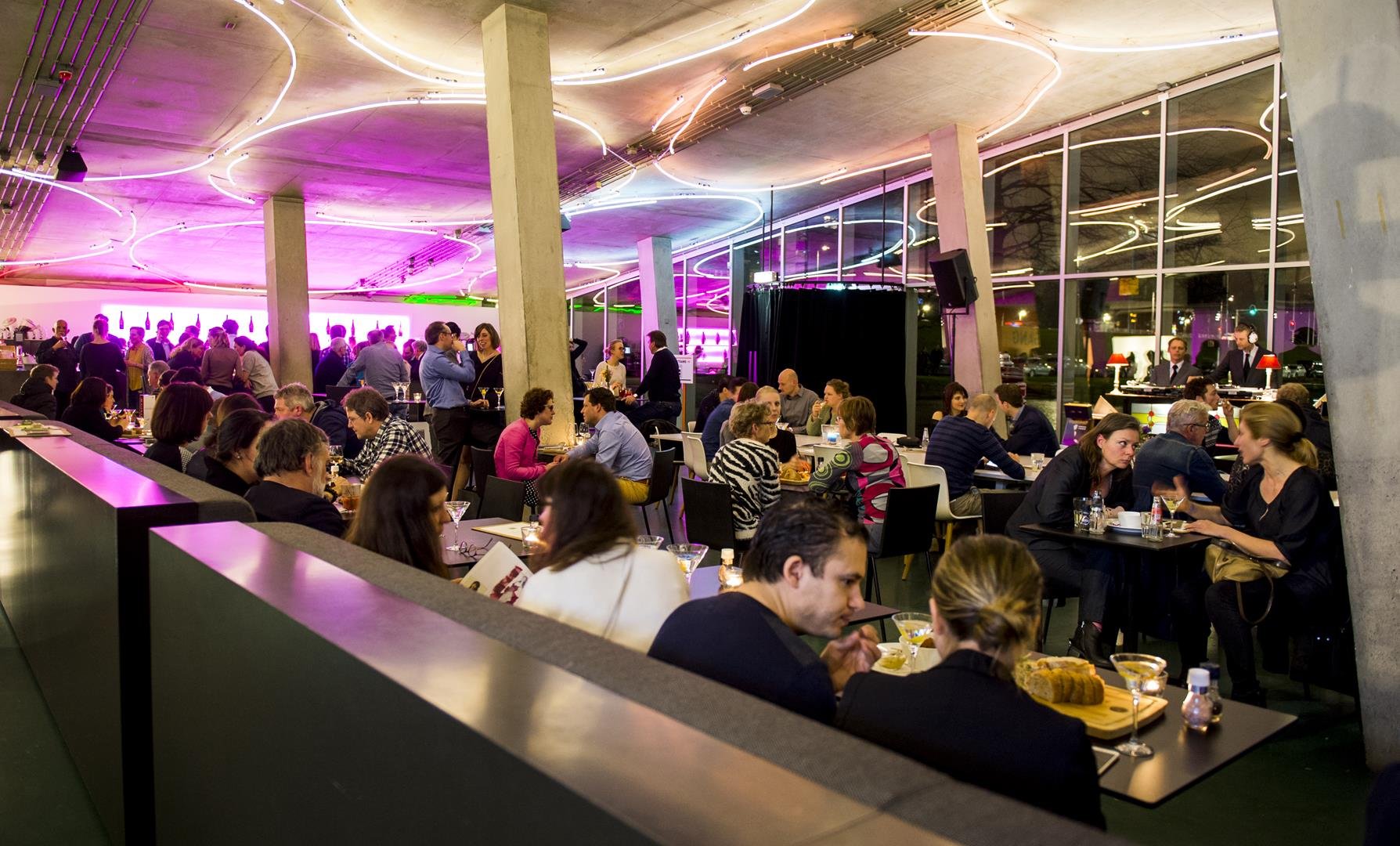 Surprising exhibitions
A visit to one of the exhibitions is an inspiring addition to your event. You can offer your guests a guided tour of the exhibitions or visit them on your own. This visit can take place during and after opening hours. The Kunsthal presents a varied and contrasting programme of 25 exhibitions a year. The range of regularly changing exhibitions means that your visit to the Kunsthal is always surprising.
FACT SHEET
The Auditorium has the following standard technical equipment available: projector, projection screen, laptop, 1 handheld microphone, 1 headset microphone, lectern, viewing screen and clicker
Projection screen size: 138 x 335 inch
10.000 ANSI Lumen brightness beamer
The Auditorium can be completely darkened by closing the curtain (design by Petra Blaisse, Inside Outside). Otherwise your guests will have a beautiful view of the Westzeedijk and the Euromast.
The rooftop of the Kunsthal can be hired for a reception (capacity 50 people)
The catering for Kunsthalcafé is provided by Vermaat. External catering is not possible. We will be happy to make a tailor-made proposal.
A special addition to an event at the Kunsthal is a guided tour of one of our exhibitions, or an architectural tour of the building
Goodiebags from the Kunsthal Shop can be arranged.