Renowned worldwide and partly based in Rotterdam. On Saturday 11 February, acclaimed American artist Ellen Gallagher is coming to the Kunsthal to talk to curator and writer Ekow Eshun about her work and the exhibition In the Black Fantastic. Gallagher's work has been shown in several solo and group exhibitions, biennials and many museums around the world have included her work in their permanent collections. In the Black Fantastic features her watercolours from the Watery Ecstatic series and paintings from the Ecstatic Draught of Fishes series, depicting a magical underwater world inspired by the modern myth of Drexciya.
Tickets
Buy your ticket here now! A ticket gives you access to the Artist Talk and all exhibitions at the Kunsthal. Museumkaart, Rotterdampas and VriendenLoterij VIP card are valid for this event. 
Where and when?
The Artist Talk will take place at the Kunsthal Auditorium on Saturday 11 February between 11:00 and 12:30 hours.
Black Atlantis
Ellen Gallagher's (1965) lavishly detailed, layered and mesmerising works in the exhibition are inspired by the myth of Drexciya. A fictional story from the 1990s, conceived by the Detroit techno duo of the same name. The myth describes a 'Black Atlantis' populated by descendants of enslaved African women who were thrown overboard during the trans-Atlantic crossing. The children they were carrying inside them as foetuses learned how to breathe under water and were thus able to create their own underwater civilization named Drexciya. 
In the Black Fantastic
In the Black Fantastic shows seductive, exuberant and colourful works by eleven contemporary artists from the African Diaspora. With boundless imagination and technical virtuosity, the artists are addressing racism and social inequality. Inspired by folklore, myth, science fiction, spiritual tradition, and Afrofuturism, they are imagining new worlds and possibilities.
Read more about the exhibition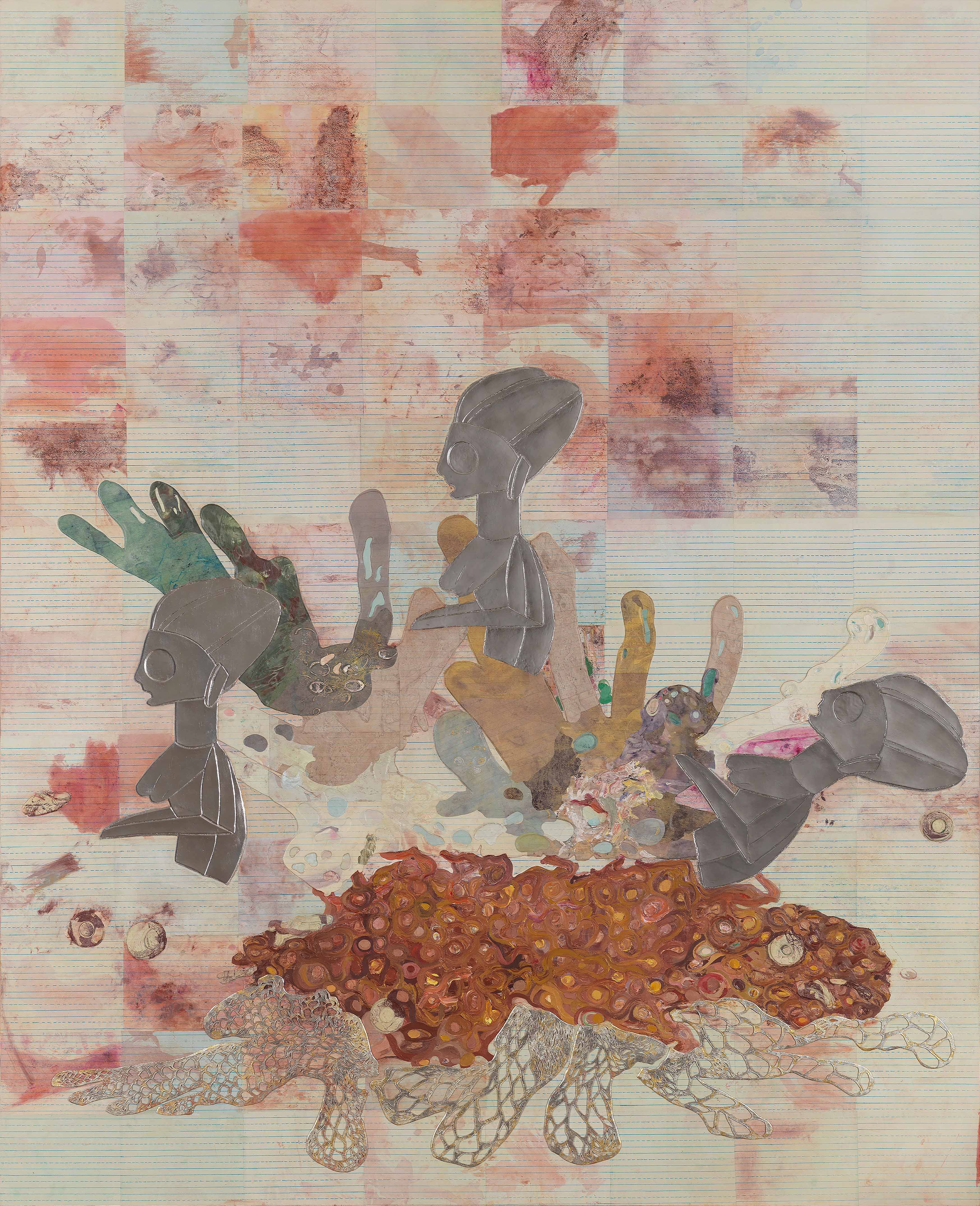 About Ekow Eshun
Ekow Eshun (1968) is a writer, curator and creator of the exhibition In the Black Fantastic. Among other things, he is Chairman of the Fourth Plinth Commissioning Group, overseeing the most prestigious public art programme in the UK, and the former Director of Institute of Contemporary Arts (ICA), London. Eshun is the author of several publications, including Africa State of Mind and Black Gold of the Sun. He has contributed to monographs on artists such as Chris Ofili, Wangechi Mutu and Mark Bradford, and has published articles in New York Times, Financial Times, The Guardian, Esquire and Aperture. Eshun is the recipient of an honorary doctorate from London Metropolitan University.
Ekow Eshun about In the Black Fantastic