Start your weekend with Friday Night LIVE! On each third Friday of the month you will be welcome at the Kunsthal from 17:00 until 22:00 hrs for bites&drinks, music&performances, but above all for an exciting and inspiring programme infused with a generous dose of art. For each edition a different Rotterdam partner will be running the show. On Friday, November 17, the electronic beats of Modular will sound through the Kunsthal. Experience how art and music come together during the exciting program that focuses on experimentation.
For Friday Night LIVE, the Kunsthal will hand over the keys and offer a platform to a Rotterdam partner active in the fields of film, spoken word, dance, music, fashion, and/or theatre. Alongside a vibrant programme, all exhibitions will remain open until 22:00 hrs. Join in and watch, listen, party, and mingle, and kick off your weekend with Friday Night LIVE!
Modular
Modular is a platform for electronic music in Rotterdam and serves as a breeding ground for creativity and experimentation, giving both established artists and upcoming talent a stage to express their musical vision. Known for club nights in Maassilo Rotterdam and at Keilecafé, the Rotterdam-based collective takes over the Kunsthal for the first time during Friday Night Live. The exhibition Refik Anadol. Living Paintings: Nature is the source of inspiration for the programme. Get carried away by electronic beats & colorful, digital compositions!
Programme FRIDAY 17 november 
| | | |
| --- | --- | --- |
| 17.15-19.00 uur | MEREL RHIZOOM & NAONE  | Auditorium |
| 17.30-22.00 uur | PIERROT | Kunsthal Cafe |
| 19.00-20.00 uur | NADIA STRUIWIGH - BIRDS OF PARADISE A/V FEAT. ORA  | Auditorium |
| 19.30-22.00 uur | MEREL RHIZOOM & NAONE  | HALL 1 |
| 20.00-21.00 uur | FAUSTIN & SONDI - RHYTMIC VISIONS A/V | Auditorium |
| 21.00-22.00 uur | OCEANIC - CHORAL FEELING LIVE A/V | Auditorium  |
Please note: During the evening, a strobe light and flashing lights will be used in some areas.
Bites & Drinks
Enjoy the tastiest burgers from Stooges (vegetarian option available) and order your favorite cocktail from Williams Canteen. Are you coming to Friday Night LIVE between 5:00 PM and 7:00 PM? Then the Kunsthal will treat you to the first drink (beer, wine, soft drink)!
REFIK ANADOL. LIVING PAINTINGS: NATURE
Kunsthal Rotterdam is presenting the first solo exhibition in the Netherlands of one the most progressive exponents of digital art: Refik Anadol. With his multi-sensory installations, Anadol (1985) explores the symbiotic relationship between humans and machines. With the help of sophisticated technologies like artificial intelligence, data visualisation, and algorithms, Anadol is able to paint with data, as it were. With his colourful and opulent digital compositions he transports the viewer to the highly advanced world of machines. Immerse yourself in the advanced world of machines, and step into a visual spectacle.
During Friday Night LIVE, film and photo recordings will be made. By participating in the event you agree to the use of this film and photo footage by Kunsthal Rotterdam.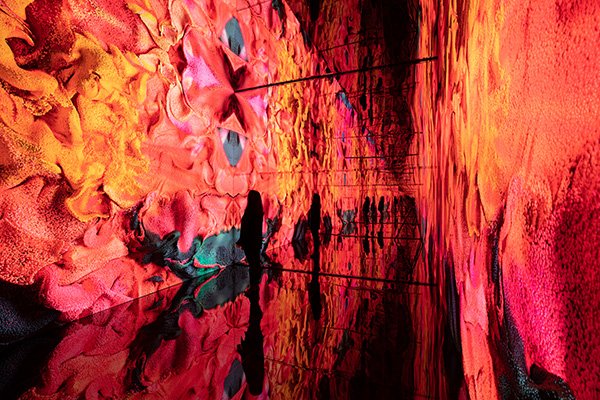 Partner
SEE ALSO