30 October, 2022 23:30 - 30 November, 2022 23:59
Welcome In my room, a podcast by Kunsthal Rotterdam in collaboration with The TittyMag. The inspiration behind this podcast is the exhibition Here We Are! Women in Design 1900 – Today, which celebrates the work of over a hundred women who played a defining role in design. Over the course of three episodes, Cathelijne Blok will be discussing the theme of house and home with our guests. How important is a house and what makes it a home to them?
In each episode two special guests guide us through different rooms in the house while talking about their own special relationship with the kitchen, living room, or bedroom. 
As an added bonus, in each of the episodes we will also be putting the spotlights on one of the objects from the exhibition. And you will hear Monika Stadler talk about her mother, Gunta Stölzl, the first woman Bauhaus master. Stölzl headed the Bauhaus textiles department and was a pioneer in the field of textile and weaving art. Her daughter Monika will be giving us a unique insight into that era.
Subscribe to Kunsthal Rotterdam's podcast channel via your favourite podcast app and don't miss a single episode! Enter our channel via Apple podcasts here and via Spotify here.
Episode 1: the kitchen
The very first episode of In my room kicks off with the room that for a long time was regarded as 'the woman's domain'. What do these two chefs and cookbook authors think of that? Vanja van der Leeden and Sara Shawkat talk to Cathelijne Blok about reclaiming the kitchen and about how their own backgrounds influence what they cook and eat. And, incidentally, what is their view on Tupperware? Listen to this episode here via Spotify, and here via Apple podcasts.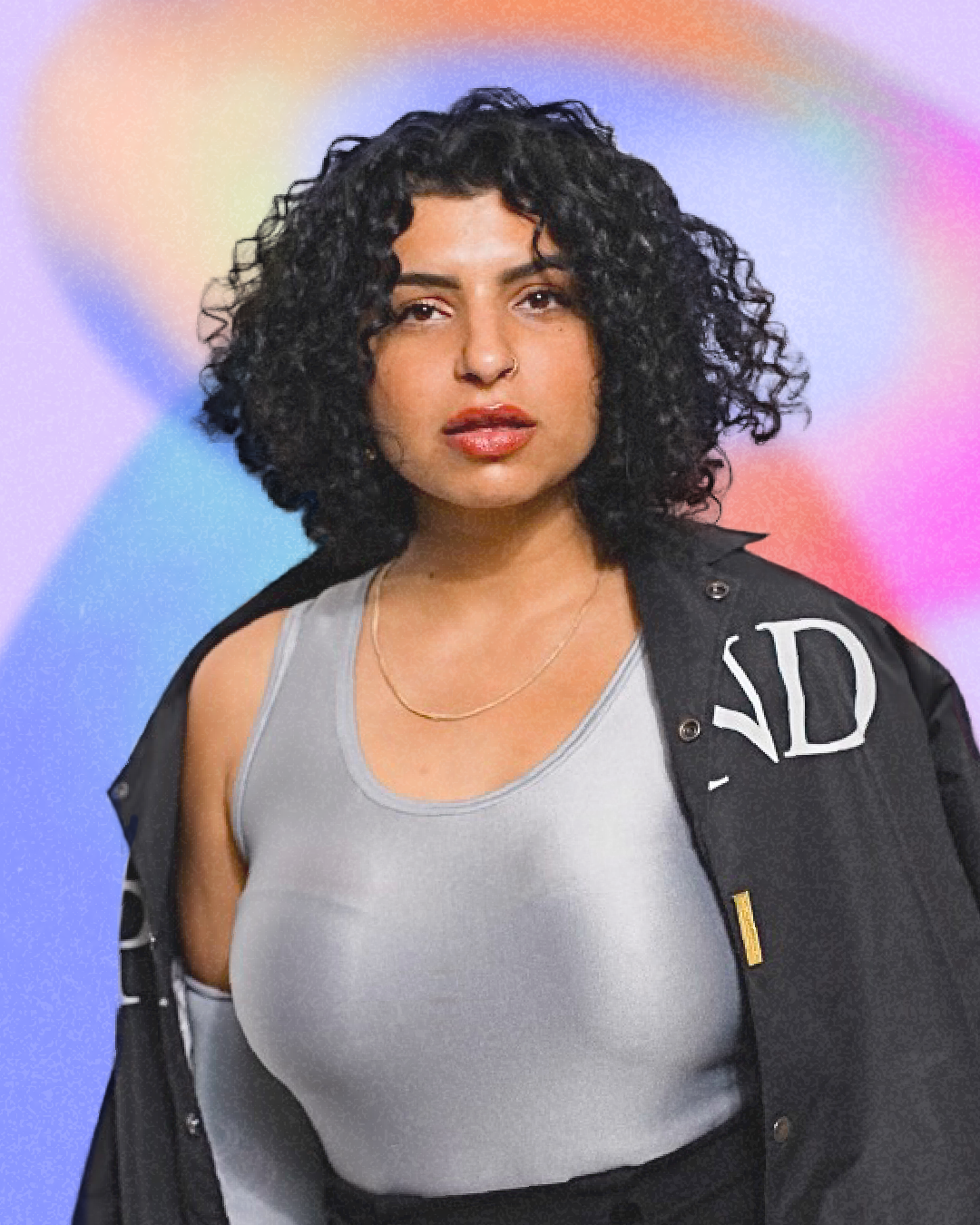 Sara Shawkat has Master of Science in Social Psychology, hosts culinary events under the name 'Noomi Basra' and works as a culinary editor. With NOOMI she marked her debut as a cookbook author.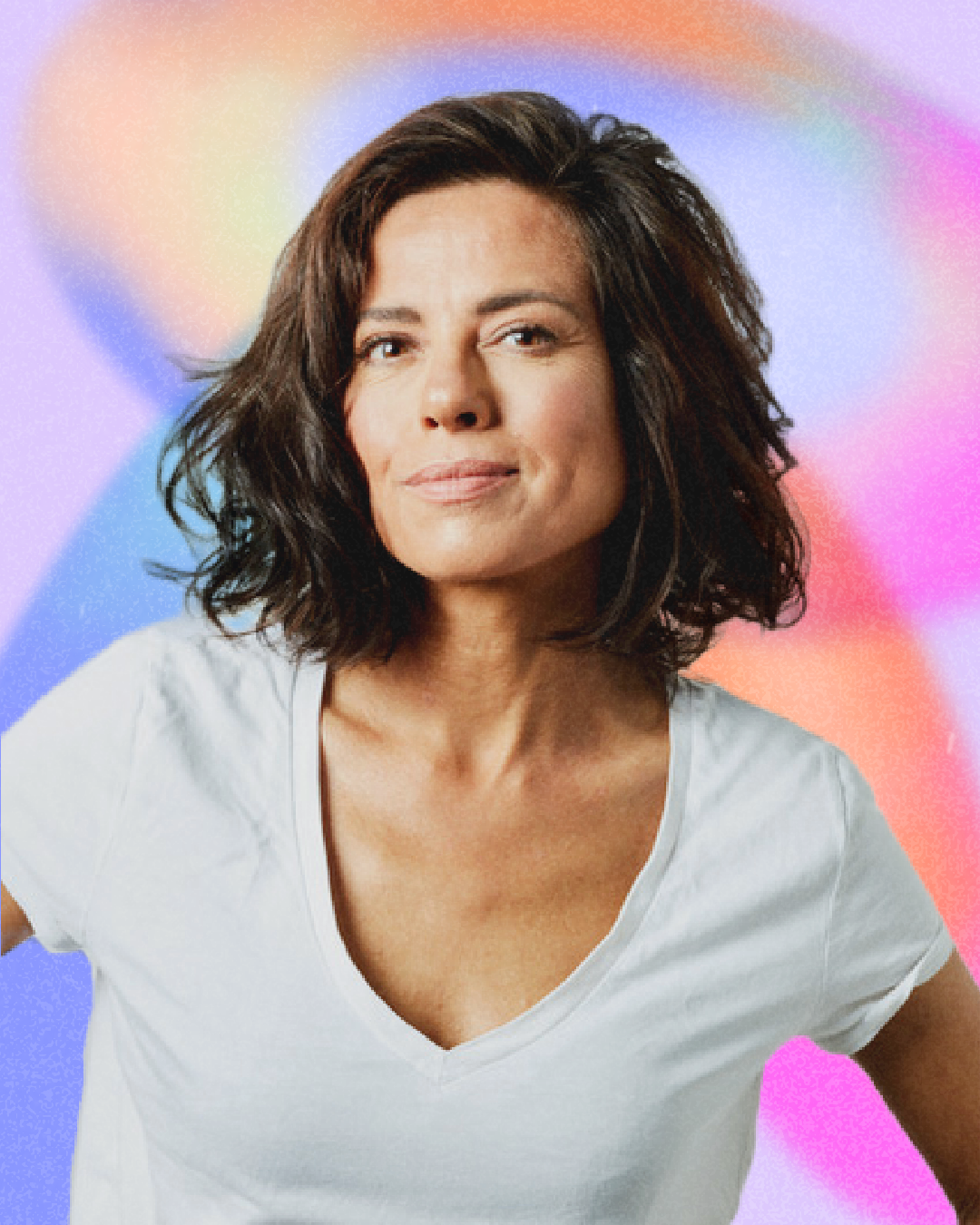 Vanja van der Leeden is a culinary journalist, cookbook author, and chef. After cooking in restaurants for years, she now mainly focuses on writing her cookbooks and working as a pop-up chef. In 2019 she won the Gouden Kookboek (Golden Cookbook) award for her book Indorock.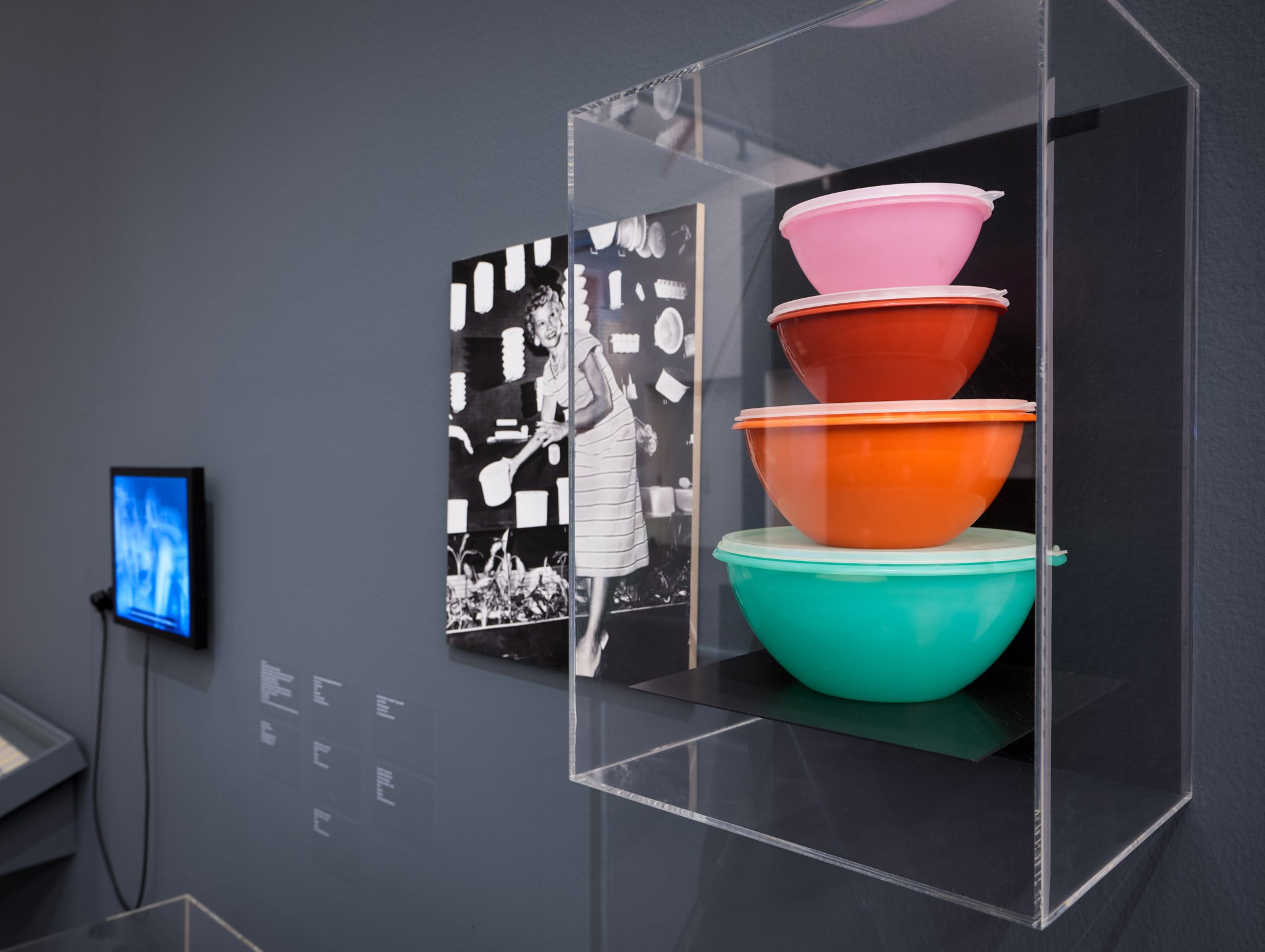 Tupperware
The first episode highlights Tupperware, on display in the exhibition Here We Are! In the 1950s, the ideal of the housewife, who takes care of her family and keeps the house neat and clean, remains dominant in many Western countries. Some women designers succeed in harnessing this stereotype for a successful career. However, it causes their work to be deemed 'too feminine' to be included in the design canon. The mythical image of the artist working in isolation also exists in the design world. While female designers often work in a team. Brownie Wise (1913-1992) did not design the iconic Tupperware trays, but he was the creator of the innovative marketing strategy of the 'parties' in people's homes for which the product became famous. Enid Seeney (1931-2011) contributed to popularising post-war modernism with her decorations for the Homemaker tableware, a bestseller in the 1950s. These designers have received some form of recognition only recently.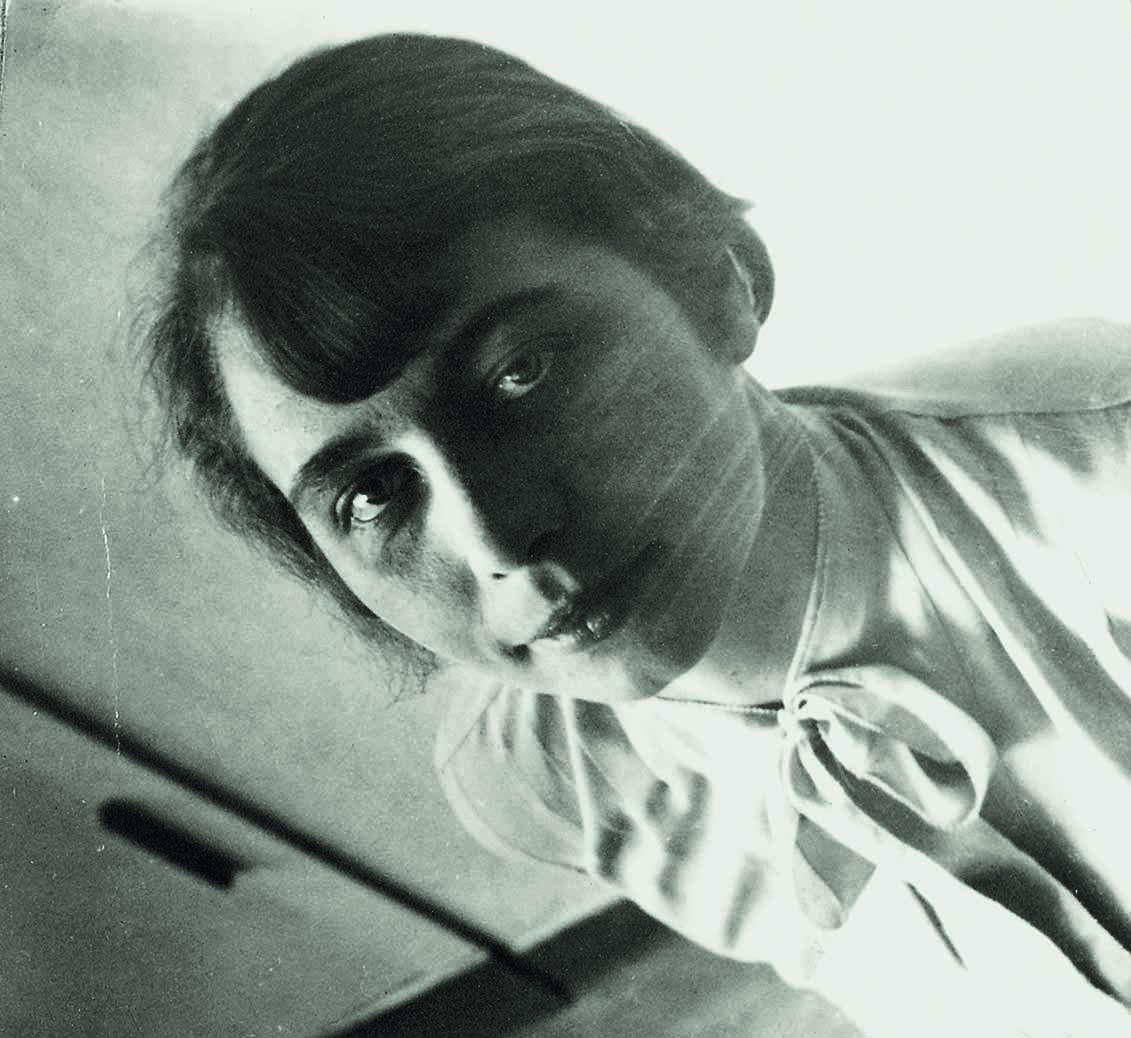 Gunta Stölzl
Gunta Stölzl (1897-1983) is one of the women pioneers featured in the exhibition Here We Are!. A number of her innovative carpets are on view at the Kunsthal. Gunta has a special place in this podcast because of her extraordinary contribution to the textile and weaving arts and her eventful life. From the onset, her unconventional approach to weaving forced her to invent new techniques and to experiment with colour and proportions. She was the first woman Bauhaus master and under her leadership the textile department of this school flourished.
The weaving workshop became one of the most productive departments in the school and generated a lot of income. Nevertheless, under political pressure from the Nazis she was fired in 1931. This prompted Stölzl to flee to Switzerland with her one-year-old daughter, where she continued to make a living with her handwoven designs for many years. Not much later, the Bauhaus was disbanded by the Nazis. From 1937, Stölzl was in charge of her own hand weaving mill, Flora, in Zürich. She constantly reverted to her Bauhaus past, both with regard to the materials and the mirror-image symmetry.
More about
See also
Episode 2: the living room
The heart of the house, a safe place of security, the place that makes your house a home. In this episode Cathelijne Blok talks to artist Kalkidan Hoex and wheelchair fencer and model Elke Lale van Achterberg. How do they make sure they feel at home? Listen to this episode here via Spotify, and here via Apple podcasts.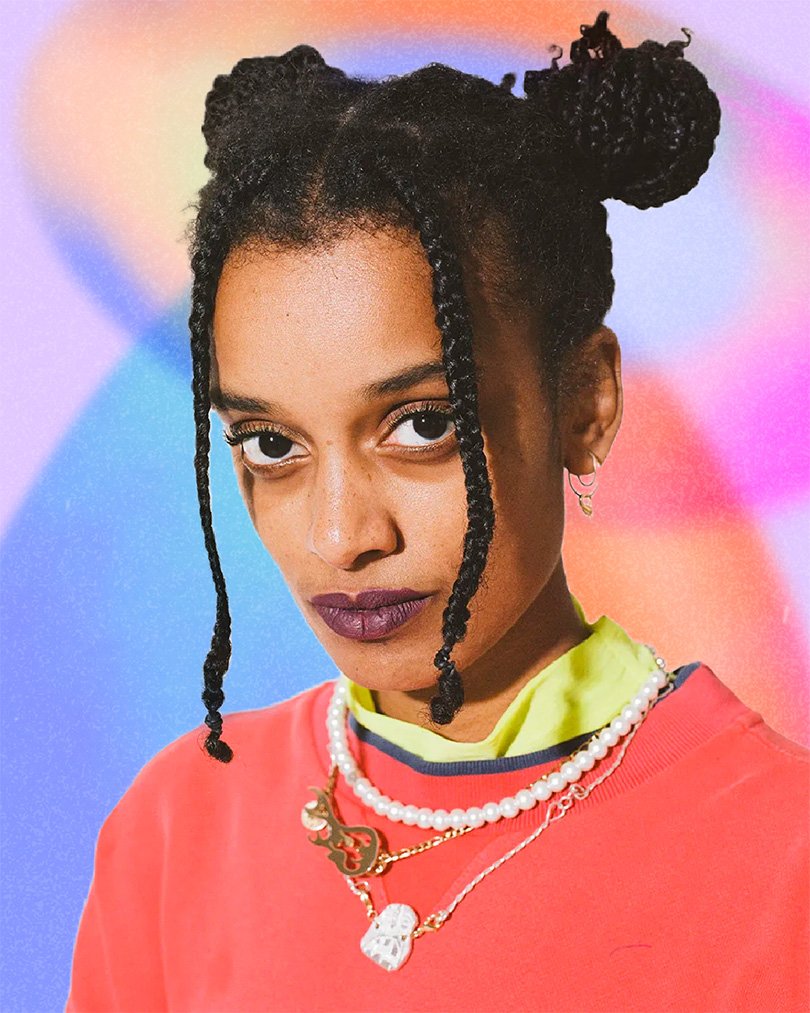 In her work, the artist Kalkidan Hoex focuses on uniting the Western and African worlds, both with regard to technique and as a source of inspiration. For her jewellery and other artistic expressions, she combines the ancestral faces featured on the shields of East-African Indigenous peoples  with contemporary emoticons.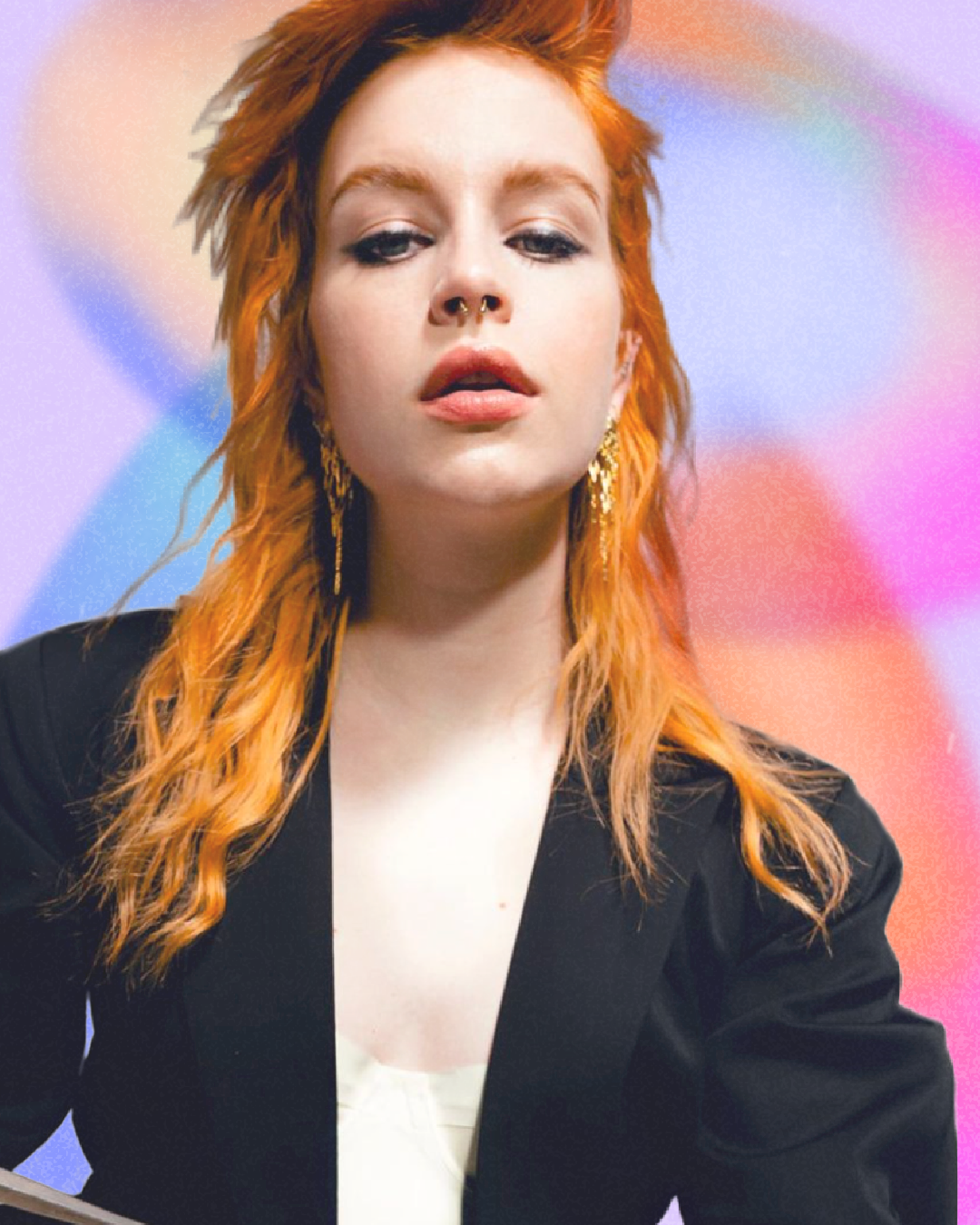 Elke Lale van Achterberg is both a wheelchair fencer and a model. In sports as well as fashion she is fighting to increase the visibility of people who are physically challenged. She also runs a model agency which is called Visible Models and focuses on intersectional inclusivity.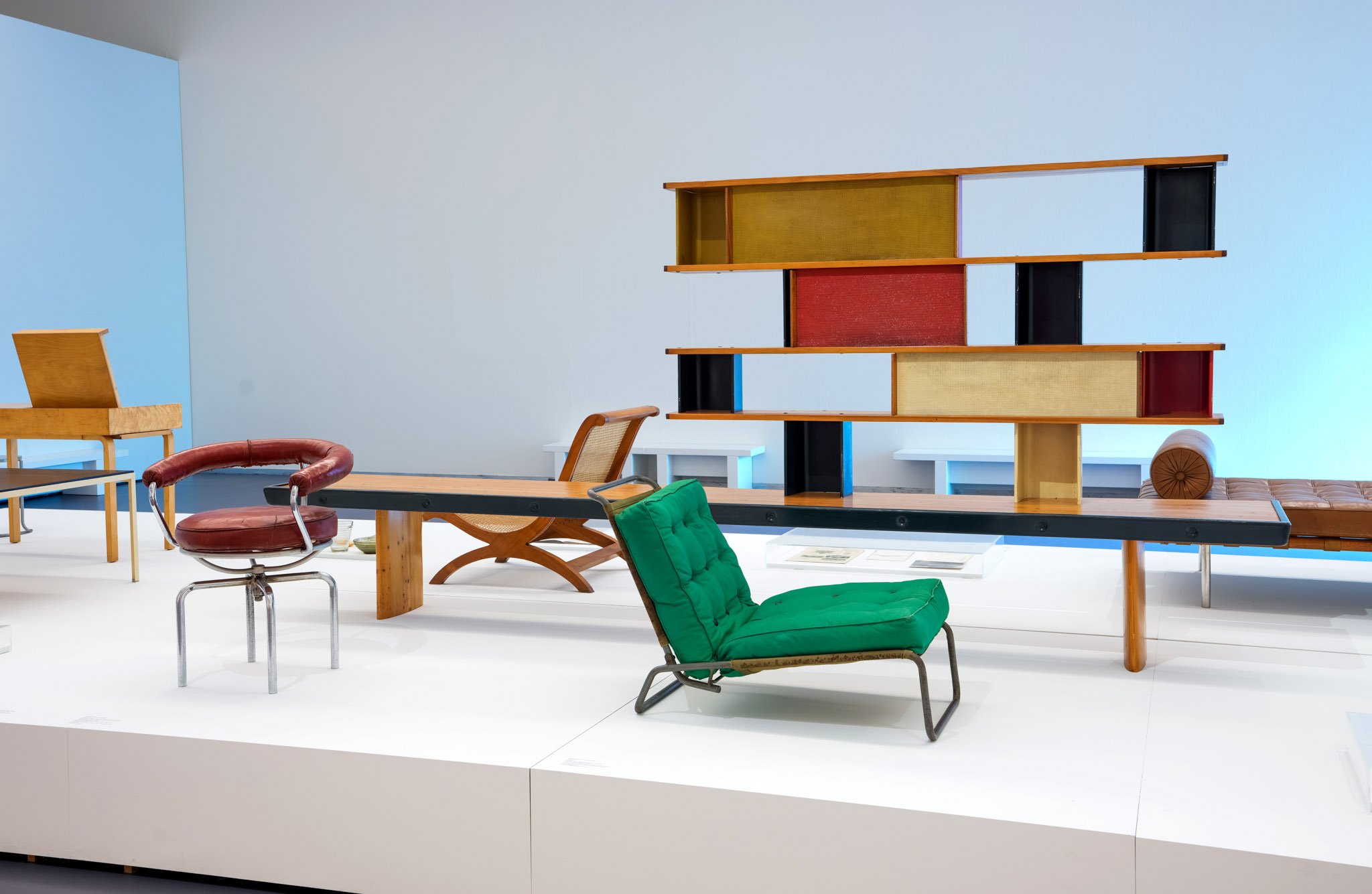 Charlotte Perriand
Today, Charlotte Perriand (1903-1999) is considered one of the most important interior designers of the 20th century. That is partly because research in recent decades has revealed the true extent of her oeuvre. Between 1927 and 1937, she worked as a young designer in the studio of modernist icons Le Corbusier and Pierre Jeanneret. She was responsible for designing furniture and interiors.

The second episode of the podcast highlights this green chair. Offering affordable and flexible furniture for small flats is a key objective for Charlotte Perriand, Le Corbusier and Pierre Jeanneret. This tubular steel-framed chair is stackable, foldable and the cushions can also be used separately to sit on. Perriand designs the chair in 1928, but she was only able to have a prototype made when she participates in the Salon des Arts Ménagers in 1936 with the Union des Artistes Modernes (UAM). The aim is to make affordable living room furniture for existing architecture, and so Perriand commissions Thonet to make a small number of these folding chairs. The design was never produced on a large scale; Perriand stands out mainly for her use of colour with which, in her own words, she wanted to break 'the standard monotony'.
Episode 3: the bedroom
The most intimate place in the house: it's where you unwind, grind, make love or have nightmares. In the third episode of In my room, Cathelijne Blok talks to writer and journalist Daan Borrel and artist Koos Buster. Listen here via Spotify, and here via Apple podcasts.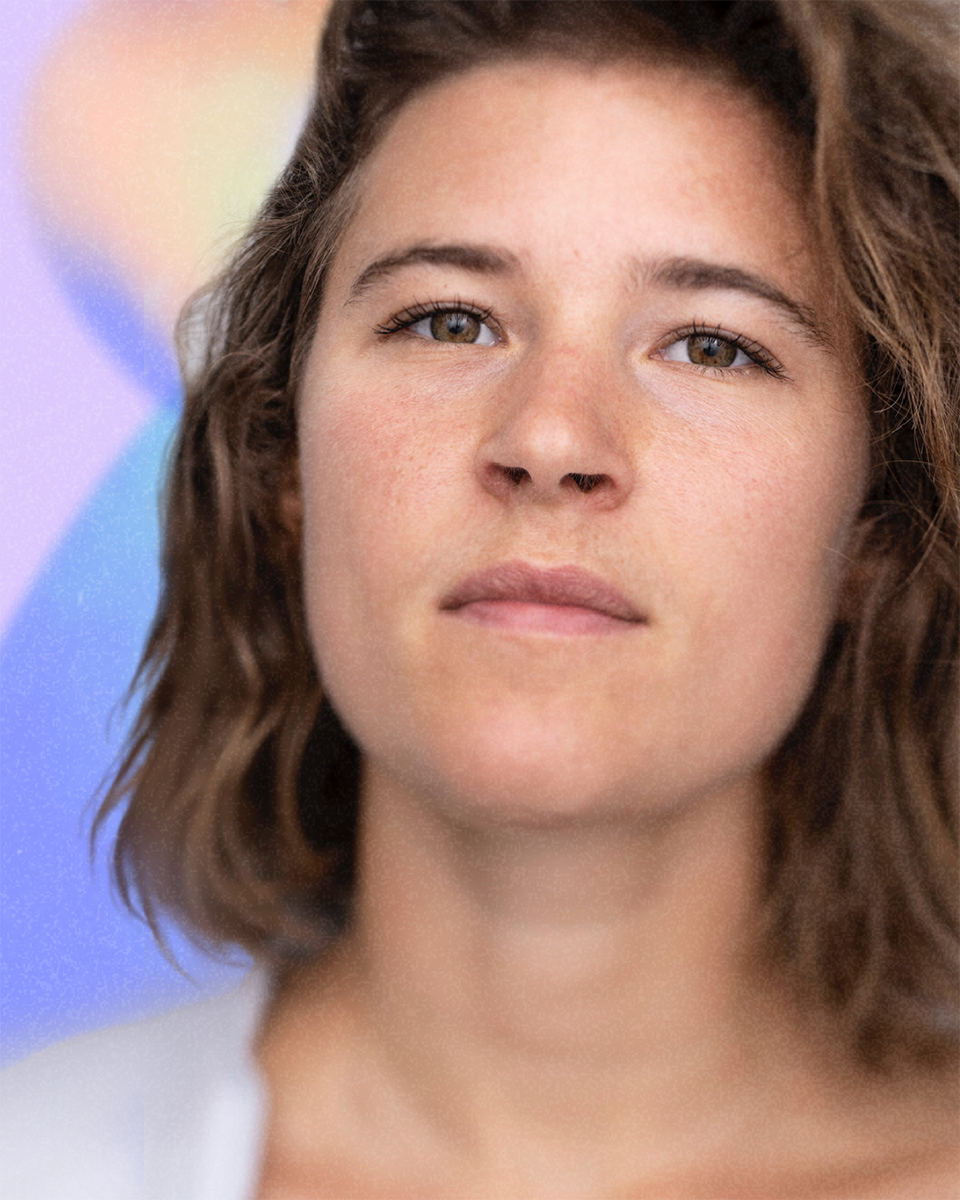 Daan Borrel studied literary studies at the University of Amsterdam and is a freelance journalist. She writes about culture and sexuality for NRC Handelsblad, De Correspondent and Het Parool. Daan is particularly interested in intimacy, the body and how people make stories about it.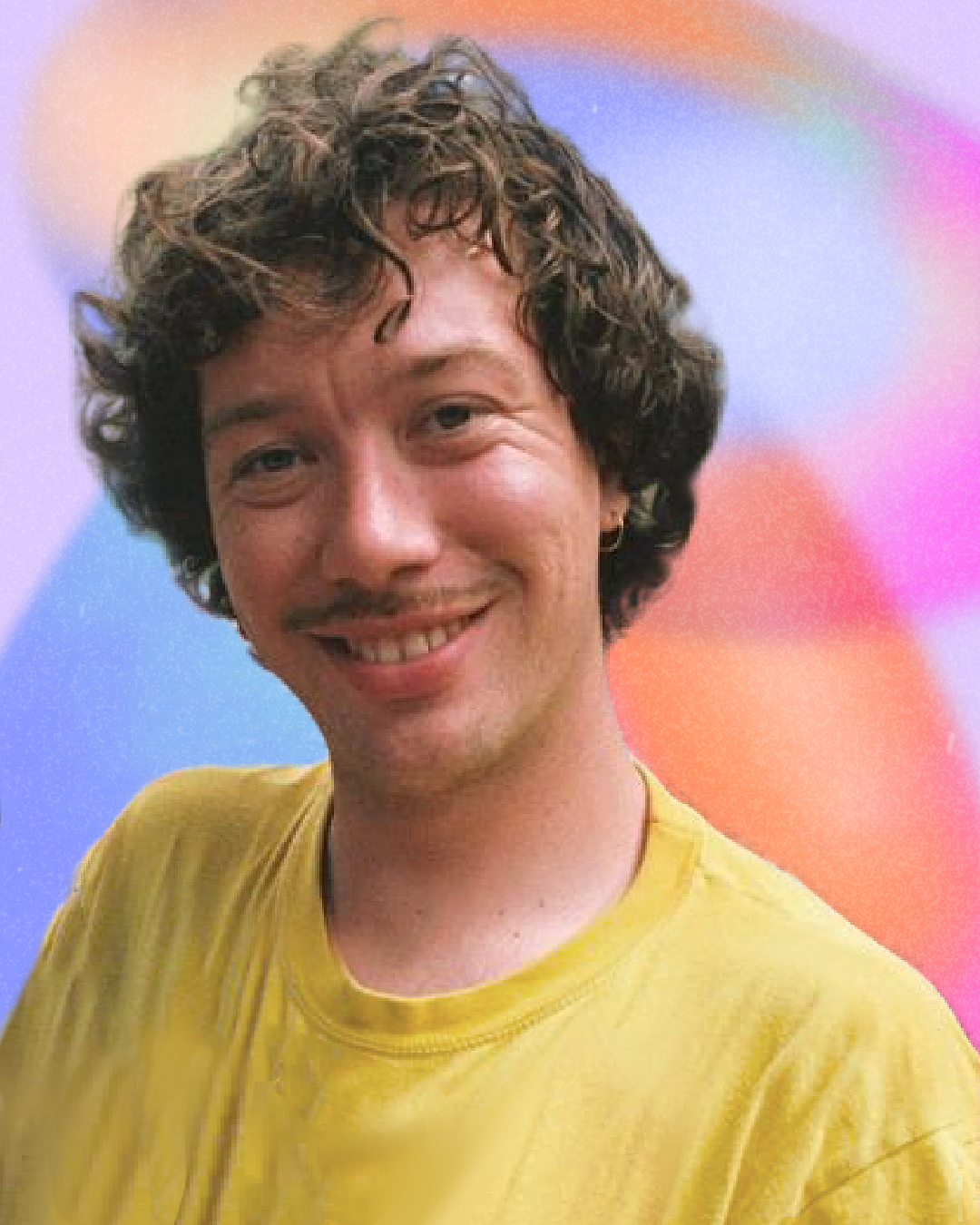 In 2018, Koos Buster stormed the Dutch artworld with the Grote Koos Buster Museum (Big Koos Buster Museum), his graduation presentation at the Gerrit Rietveld Academie. This started a ceramics renaissance in the Netherlands, and led to Buster being sworn in as Minister of Ceramics.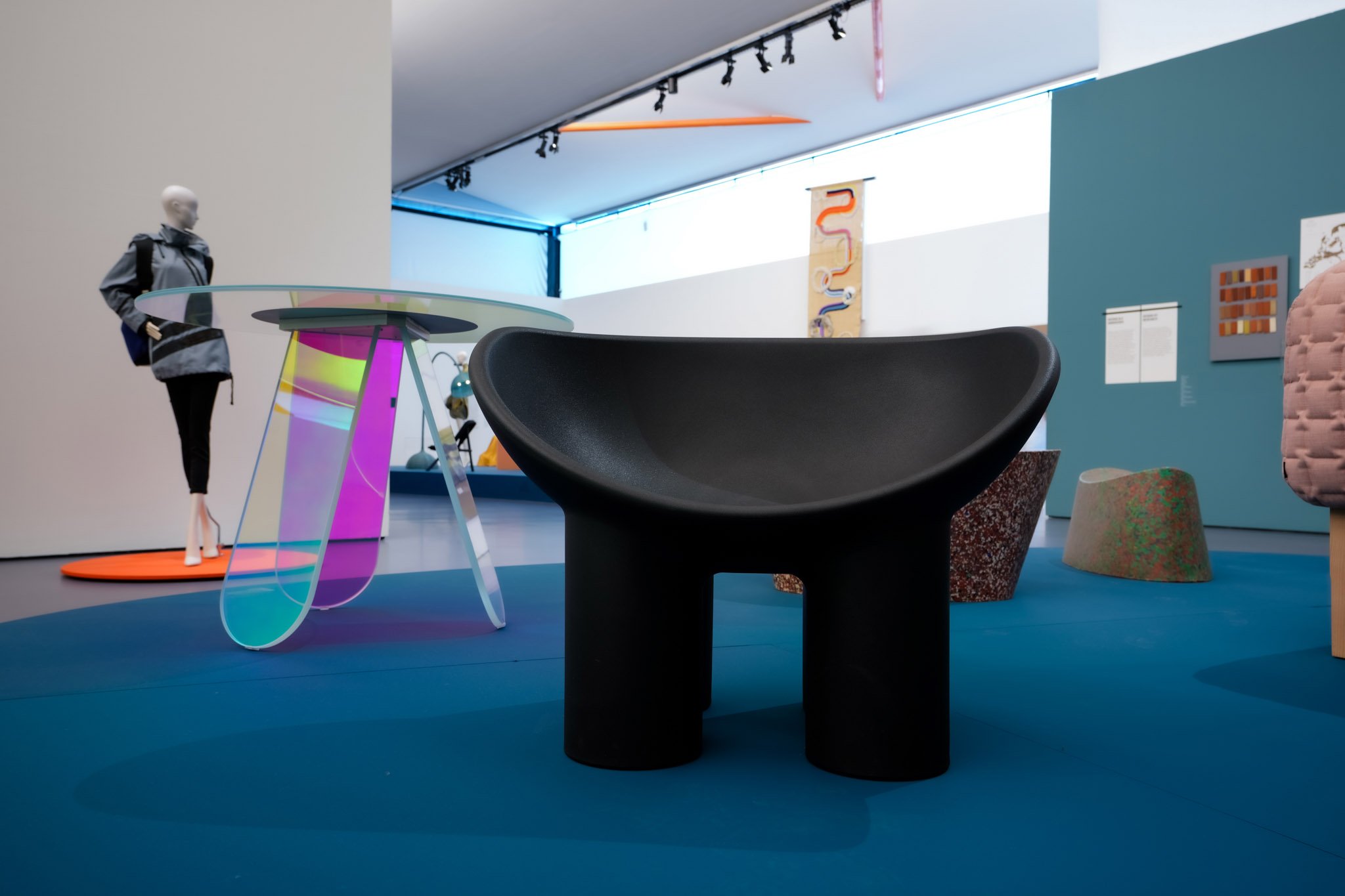 Roly Poly
Motherhood is a theme rarely addressed in design. However, London-based designer Faye Toogood (1977) was pregnant when she develops her Roly Poly armchair, which is exactly the inspiration behind the design. This chair is highlighted in the third episode of the podcast. The shell is designed to provide maximum comfort for any body type, including the bodies of pregnant women, and the curves of the shape are reminiscent of the womb. Besides furniture and interiors, Toogood also designs clothes and objects. She releases her works in sets, or collections she refers to as 'Assemblages'. Roly Poly is part of Assemblage 4 and has been in serial production since 2018.