In collaboration with the Willem de Kooning Academy, Kunsthal Rotterdam presents a series of masterclasses – exclusively for students and Kunsthal Friends – by exceptional artists. Following inspiring masterclasses by such figures as photographer Peter Lindbergh, photographer and artist Erwin Olaf, architect Rem Koolhaas, fashion artists Viktor&Rolf and trend forecaster Lidewij Edelkoort, the Netherlands' most talented animation artists Job, Joris & Marieke are next in line. On the occasion of their exhibition 'A Triple Life' they will give a masterclass in the Kunsthal Auditorium on Thursday 14 April.
Those entering the world of Job, Joris & Marieke are confronted with impossible events and absurdist scenarios. During the masterclass, Job Roggeveen (1979), Joris Oprins (1980) and Marieke Blaauw (1979) will share their personal stories and experiences and go into more detail about how they set up their studio, and about their artistic practice, work and sources of inspiration. On the basis of their new television series Heads Together! they will explain their working methods further. How is a programme like this actually realised? The official language of the masterclass is English.
Programme Thursday 14 April
| | |
| --- | --- |
| 10:30 - 11:00 | Doors open |
| 11:00 - circa 13:00  | Masterclass and Q&A |
| From 13:00 | After the master class there will be an opportunity to visit the exhibition 'A Triple Life' |
Portfolio
Would you like to discuss your portfolio with Job, Joris & Marieke? Send your portfolio and a brief explanation of your work to educatie@kunsthal.nl (preferably via WeTransfer) before Monday 11 April. Please also mention your name, age, whcih course you are following and your year of study.
Signing up for students
For students, the costs for participating in the Masterclass are €7.50, including a visit to the exhibition 'A Triple Life´ (and all other exhibitions at the Kunsthal).
Signing up KUNSTHAL FRIENDS
Kunsthal Friends can sign up for the masterclass by booking a Kunsthal Friend ticket here. Are you not a Friend yet but interested in this and other master classes? Would you like to find out what it feels like to be a Friend and take advantage of all the perks? You are then given the opportunity to participate as a 'Friend for a day' for €7.50. This fee will be refunded if you decide to become a Kunsthal Friend. Book your 'Friend for a day' ticket here. 
Click here if you would like to find out more about the advantages of becoming a Kunsthal Friend.
Studio Job, Joris & Marieke
The creative studio Job, Joris & Marieke has already won many awards, including an International Emmy Kids Award for 'Heads Together' and an Oscar nomination for 'A Single Life'. Ever since their studies at the Design Academy Eindhoven, Job, Joris & Marieke have been inseparable. To them animation proved to be an ideal medium for combining storytelling with design. Their work can be described as poetic, cute, funny, and sometimes disturbing. With their short animation films, commissioned works, and music videos, the studio managed to put itself on the international map. Commissioned by the VPRO, studio Job, Joris & Marieke recently made the animation series Heads Together!, based on the short film of the same name.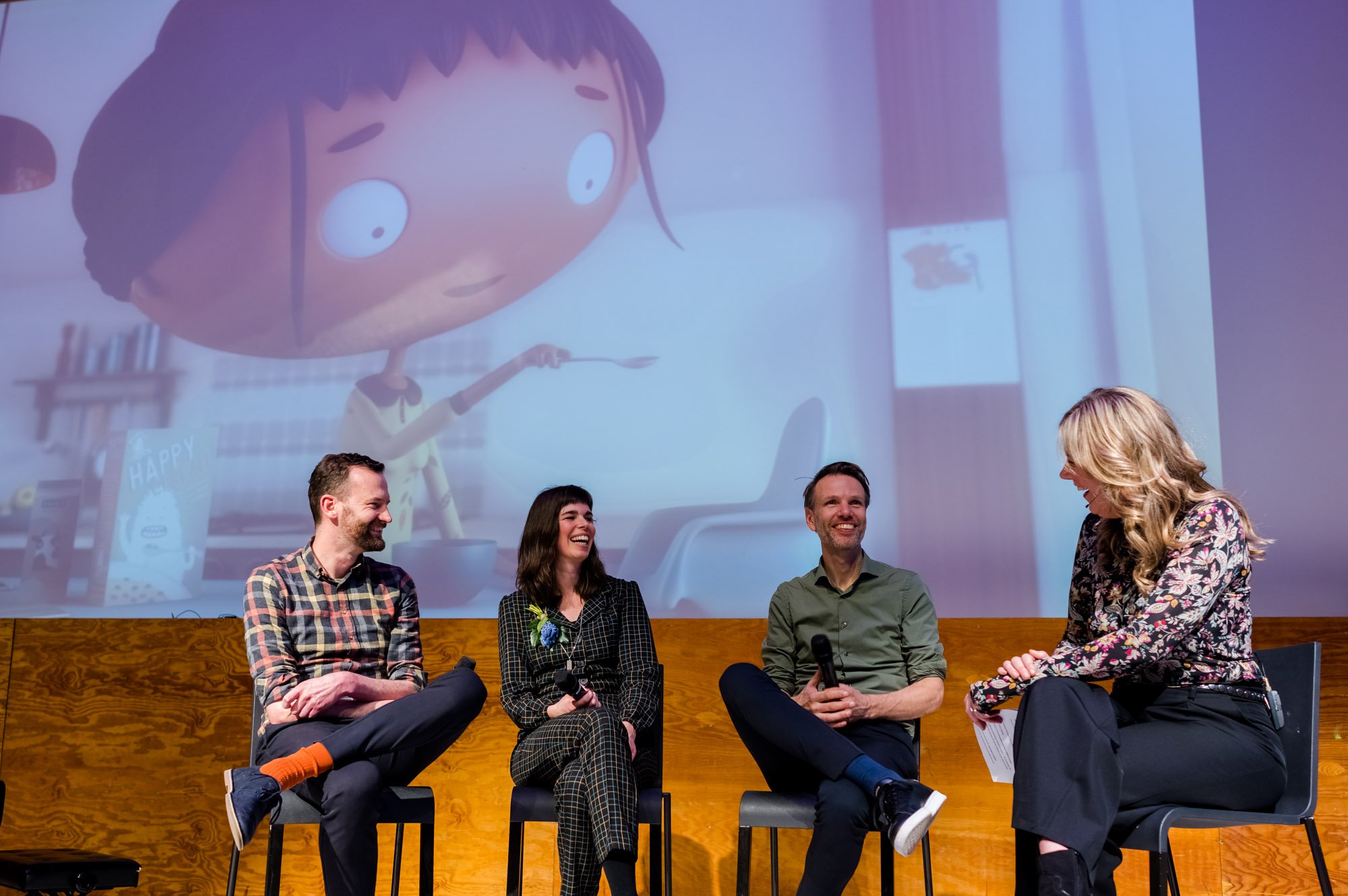 A Triple Life
For the exhibition 'A Triple Life', Job, Joris & Marieke have been experimenting with transposing animated film to a spatial environment for the very first time. The experience 'Nobody', which was especially developed for the exhibition, tells the story of Florian, an obsessively driven lifestyle Instagrammer who lives for the likes of his followers. But one day, he becomes transparent and is suddenly nothing more than a shadow. By means of video mapping, visitors imagine themselves to be right in the middle of the story. Visitors will also be introduced to earlier works by Job, Joris & Marieke. Different elements of their work are examined in the exhibition, including character design, storytelling, use of colour, and music. Through the addition of 'making of' videos the audience can experience how the absurdist ideas of Job, Joris & Marieke are brought to life and impact the narrative and the characters. The time-consuming business of animating is always preceded by an extensive creative process.
See also