27 June, 2020 - 30 August, 2020
The jubilee edition of All you can Art has started! All you can Art is an open workshop, exhibition and summer school all in one. Everyone – literally everyone – is welcome to make art, learn and discover following the master-apprentice principle. After four successful editions, this intense collaboration between Kunsthal Rotterdam and Instituto Buena Bista (IBB) Curaçao has become a permanent feature of the cultural landscape of Rotterdam. Under the inspiring guidance of artists David Bade and Tirzo Martha, this jubilee edition of All you can Art will spread from the Kunsthal further into the city. One thing is certain: it will be a special edition for the artists, our partners and our public in a new 1.5-metre society which makes demands on our talent to improvise and to devise flexible, creative solutions. Follow the artists and participants of All you can Art on this page!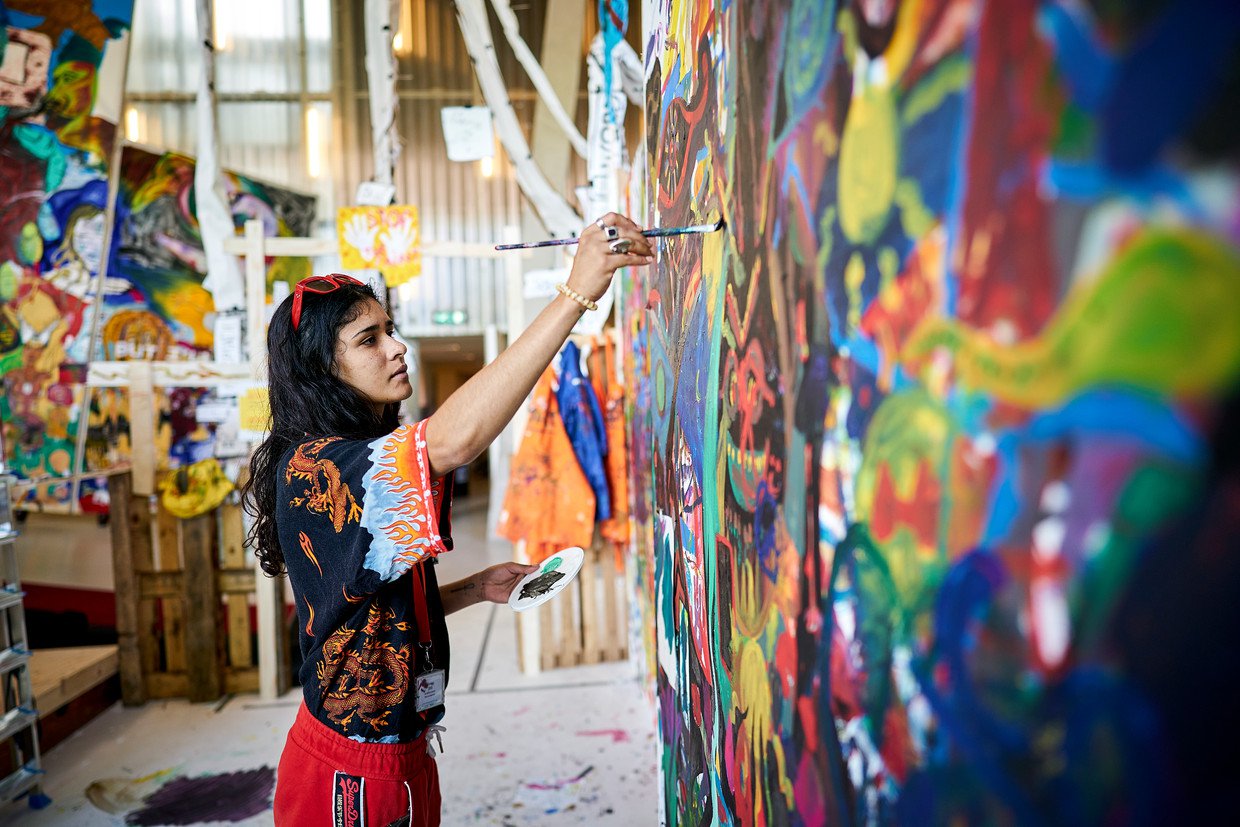 "All you can Art stirs up the imagination in Rotterdam"
Dutch newspaper Trouw published an article about the jubilee edition of All you can Art! Read the story, about among others Roxette Capriles and Pris Roos here. 
First episode of OPEN Rotterdam
This year another beautiful series about All you can Art on OPEN Rotterdam! In the first episode the artists are moving into the neighbourhood of Crooswijk, local resident Henk gives a paint spraying workshop and the week is rounded up with word art.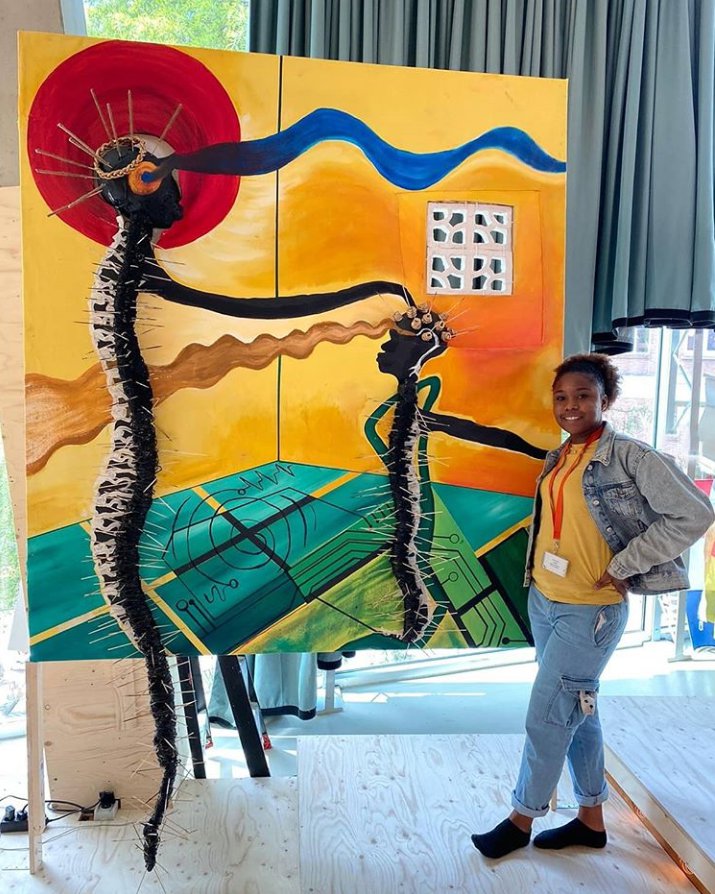 Ripening Process
Location: Kunsthal
A part of this year's All you can Art is the ever evolving and growing jubilee exhibition at the Kunsthal Auditorium. Striking examples of inspiring projects and remarkable encounters from the past five years are on display. This exhibition is in a constant state of flux and growing: not only the artist's and student's projects fill the space, but some works of IBB-alumni have also been added.
After studying at IBB Curaçao, Eugenie Boon continued at HKU and graduated with the work 'Ripening Process'. Her multi-disciplinary works revolve around her upbringing at Curacao and the island's historical relation to the Netherlands. This work is about upbringing and education: the exchange between parents raising their children but also receiving an education of their children in return. And on a higher level: the symbolization of the Netherlands as parent and Curacao as the child.
In August, Boon will also continue the project 'Simia' during All you can Art,  so stay tuned for more!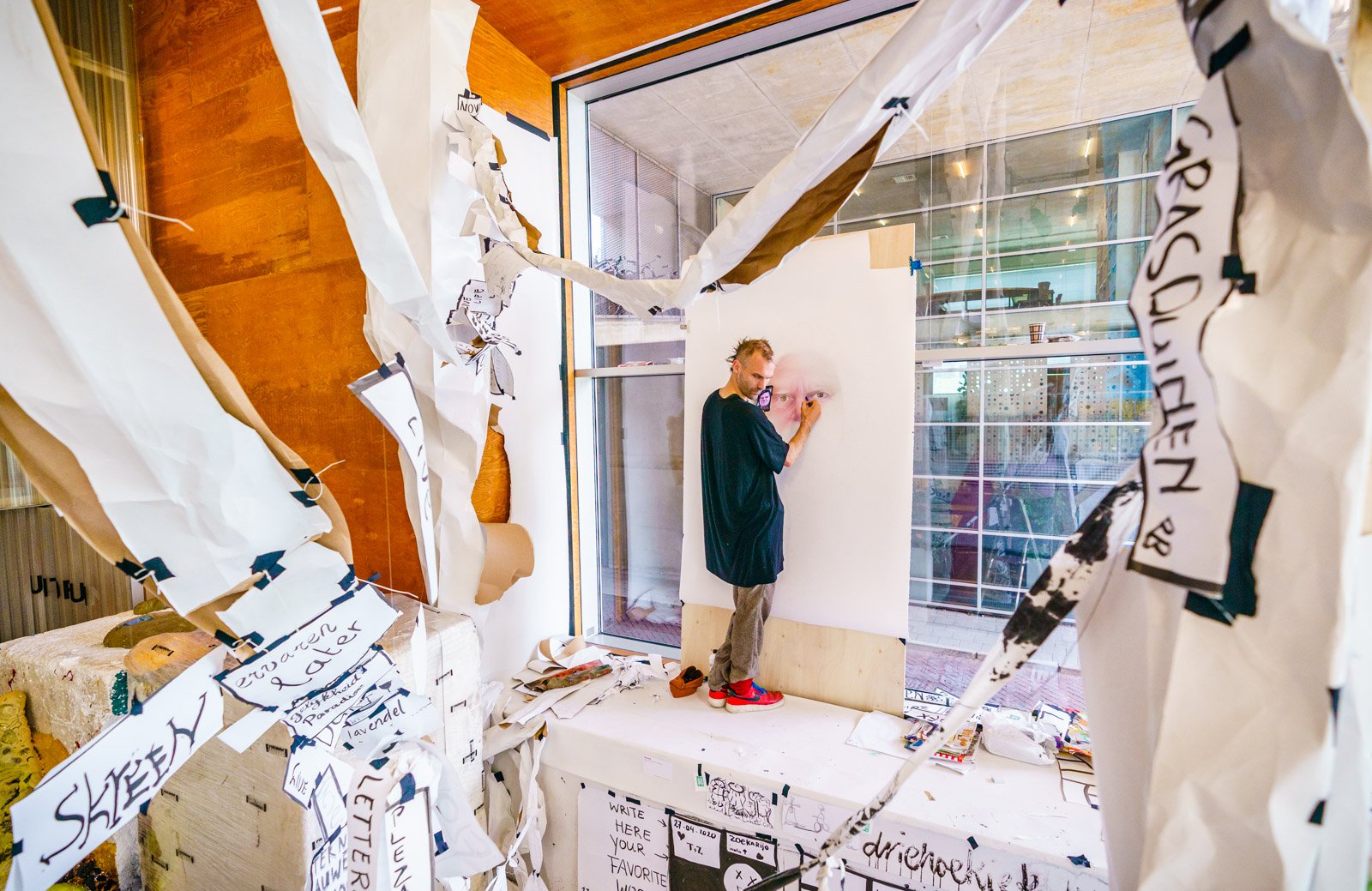 Letter to Heaven
Location: Kunsthal
Entering the Kunsthal Auditorium, you stumble upon a tall construction of written pieces of paper. Artist Ko de Kok invites visitors to write down their favourite word, so they can create a framework of positive energy. This 'Letter to Heaven' frames the work-in-progress portrait of recently deceased Rotterdam artist Henri van Zanten. Ko wants to pay tribute to this 'omni-artist', who was his good friend and inspiration. In his work the visual, layered and detailed portrait creates an interesting dynamic with the expressive words.
This is the first year Ko joins the All you can Art family. "I am amazed how this project creates an accessible environment where the public comes together and connects with the artists and the artworks. It's so great to see my work grow so fast because of the many people that come by and contribute to it. The tall space of the Auditorium also allows it to flourish."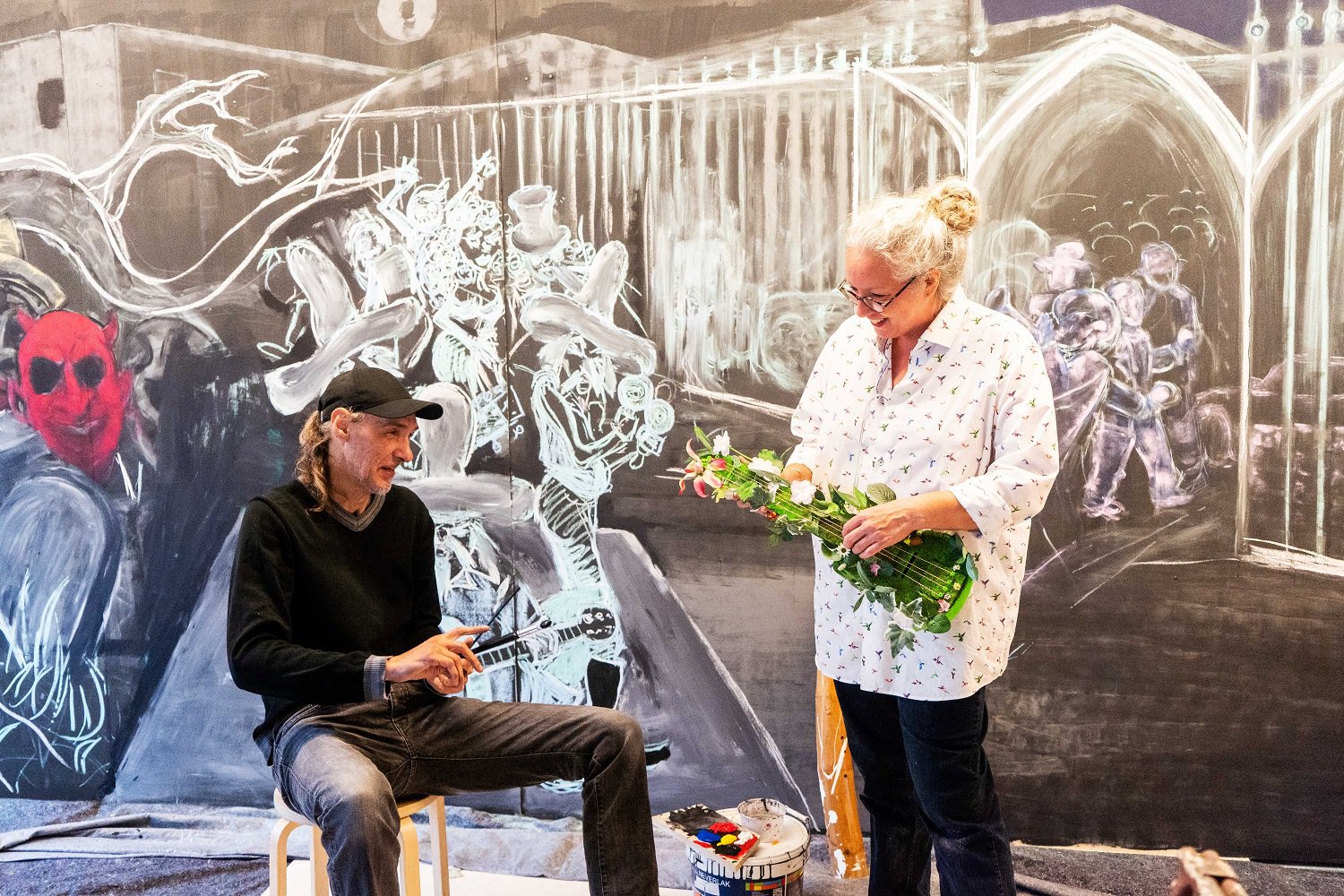 'The Dead Angle'
Location: Kunsthal
Not only visitors and Summer school students join All you can Art at the Kunsthal, participants of Via Kunst can be found at the Auditorium this Summer on a weekly basis. They created their own studio, named 'The Dead Angle'. Their art project is inspired by the Mexican holiday 'Día de los Muertos'. On the Day of the Dead the spirits of the deceased return and are celebrated by their descendants. It is a colourful and festive celebration of life. The symbol of the skull is an element that you see frequently during this holiday, represented by masks and food (skulls made out of sugar, for example). The people working here, try to enlighten the common concept of death that most of us share. Instead of the sadness and fear that we often associate with death, we are invited to look at death from another point of view: The Dead Angle.
Via Kunst is part of NAS Rotterdam, an organisation for shelter in the broadest sense of the word. Their studio Via Kunst is an open atelier where everyone in need of someone to talk to can stop by to make art together. A great partner of All you can Art!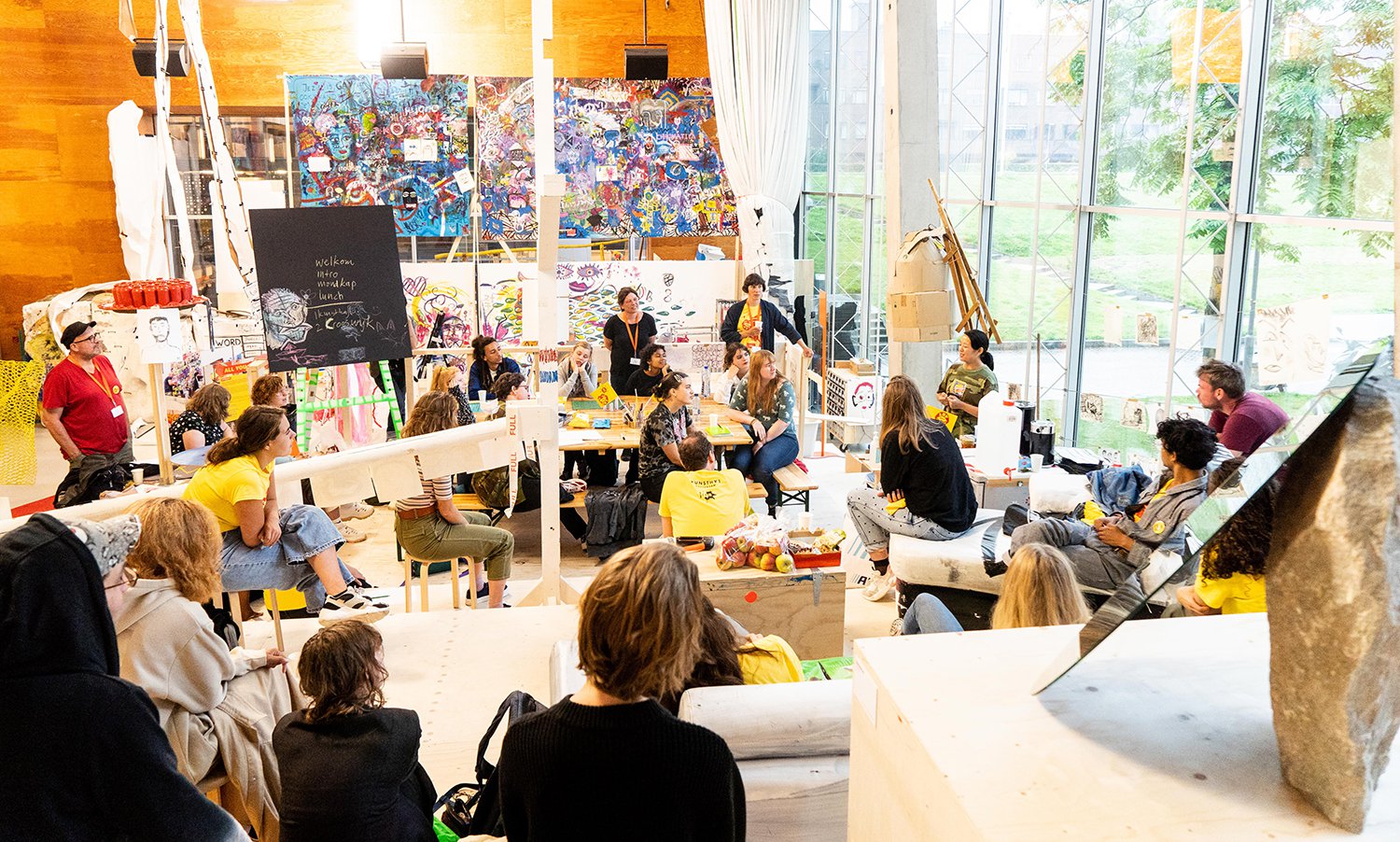 First day of Summer school
Location: Kunsthal
The Summer school is off to a great start! All of the Summer school students gathered for the first time, at the Kunsthal Auditorium. For the next six weeks, these 25 people of all ages, backgrounds and educational levels will be developing their creative skills.
One of the first assignments was to introduce themselves through paint, on a mouth mask. Not only a good way to get to know each other, but very handy for travelling between the Kunsthal and Kunstruimte Crooswijk, where they will be spending their Summer.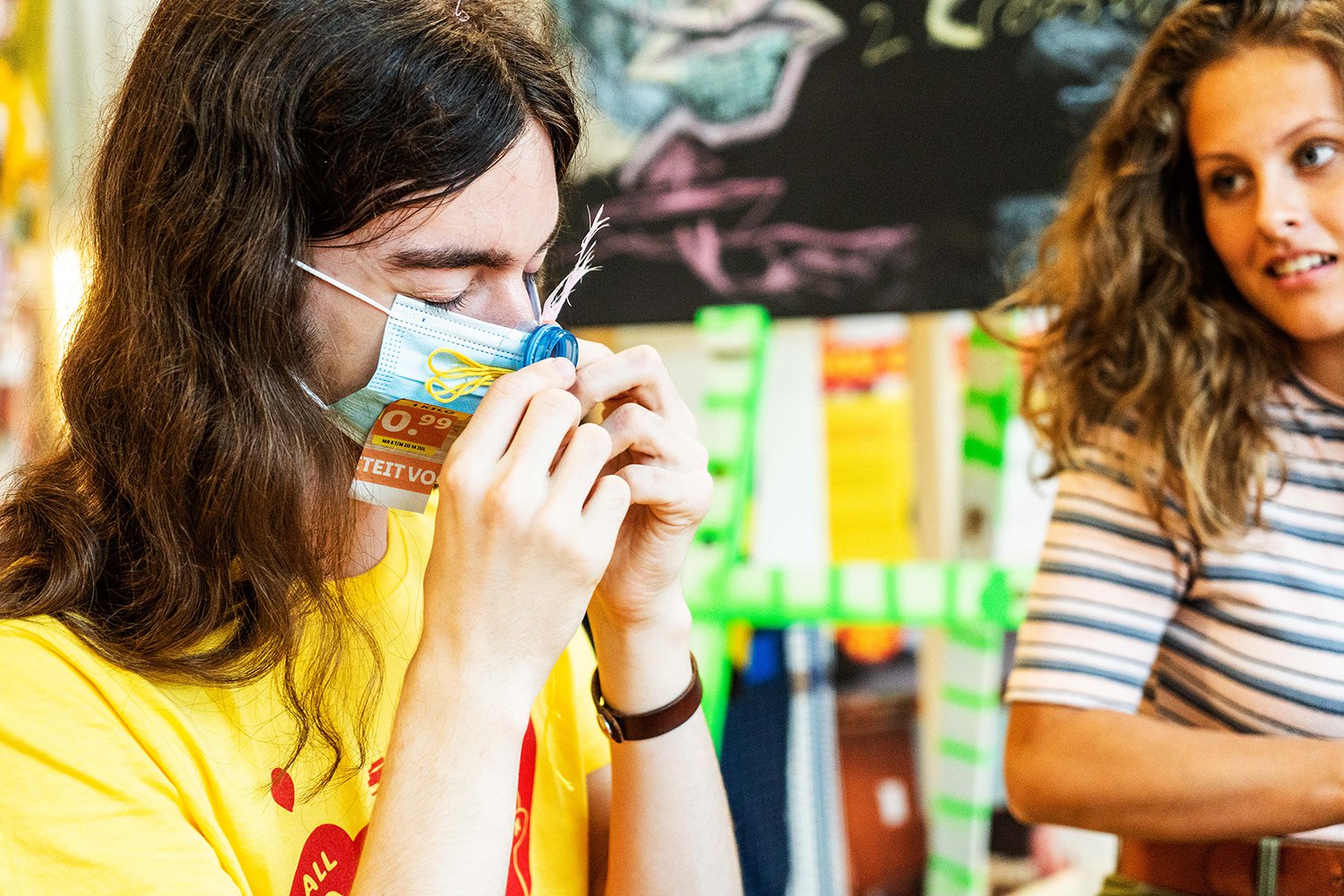 Fiery Mural
Location: Kunstruimte Crooswijk
This month, artist Roxy Capriles is working on her mural at Kunstruimte Crooswijk. Feel free to stop by and join her!
This wall painting is an ever evolving, fleeting project, that can't exist without the (visual) dialogue between Roxy and the public. One day the wall will look completely different than the next week. The images can be painted over just as quickly by the next visitor, so make a picture of your work!
For the artist, the theme of fire is the exit point in this work. Fire is an element that can explosively take over space, that can be passed on. This is something Roxy wants to reach with the mural as well. She enters into dialogue with every 'guest painter' to search for their inner fire, so anyone can contribute in their own way.
 
Kick-off All you can Art 5
Location: Kunstruimte Crooswijk
All you can Art 5 is on! Musicians of the New Orleans Band formed a swinging parade along the Crooswijkseweg last Saturday. Students of the MBO Theaterschool Rotterdam performed together with artist David Bade in his sculptural performance 'De Kunstkwakzalver' ('The Art Quack').
During this festive kick-off of All you can Art 5, Crooswijk was introduced to the team of artists and Summerschool students. They can't wait to give everyone, truly everyone, the chance to participate this summer, to make art together, to learn and to discover. All summer long at the Kunsthal and at guest location Kunstruimte Crooswijk. Come by and join in!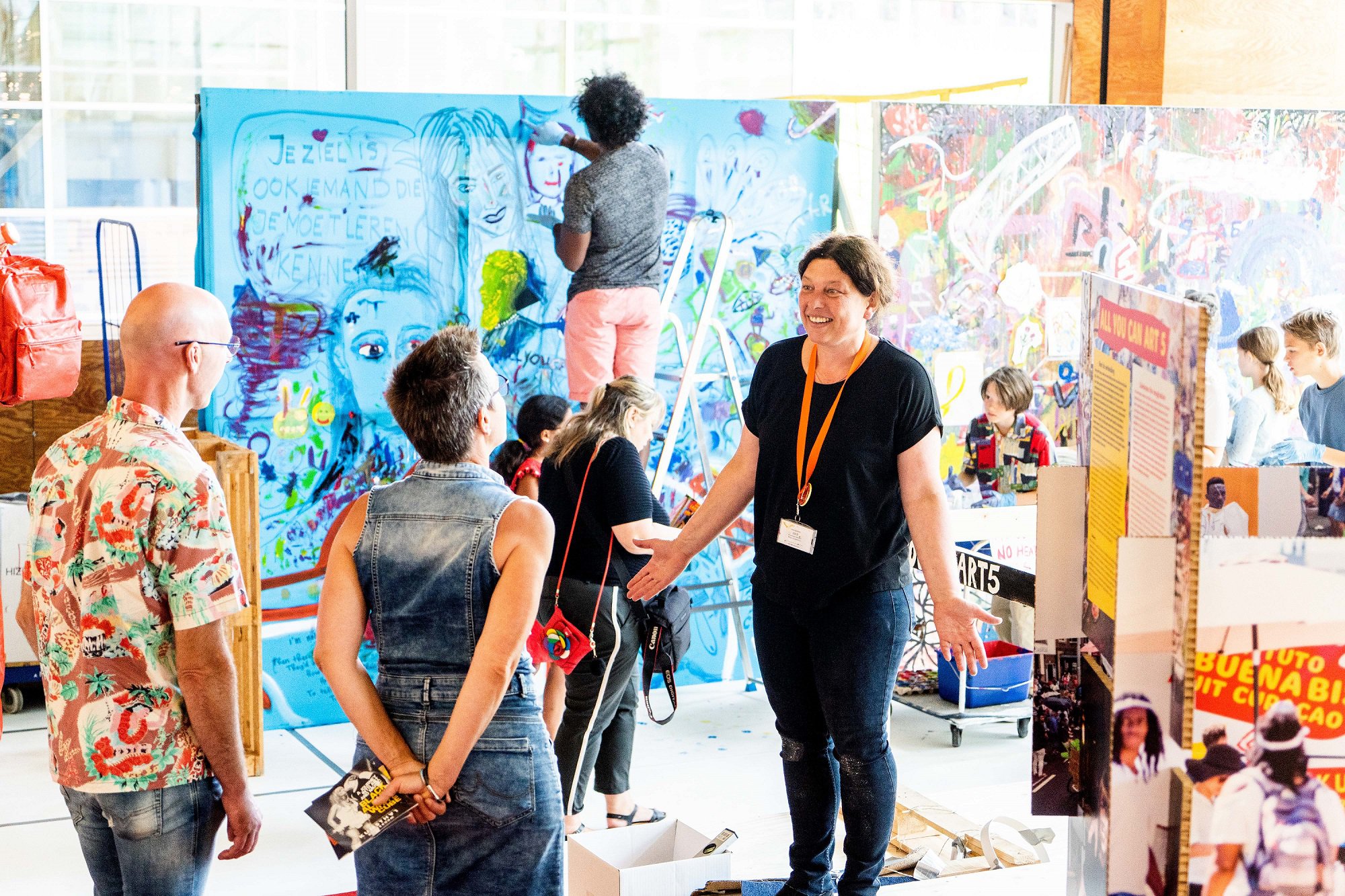 All you can Art takes over the Kunsthal Auditorium
David Bade and the team of IBB artists are here for the fifth year in a row to create art with you all summer long. During the first weekend of the jubilee edition of All you can Art, visitors experienced the practice-based approach of the IBB Curaçao artists first-hand. All summer long, participants will be working on joint artworks and projects in the Kunsthal Auditorium and in Kunstruimte Crooswijk (art space Crooswijk). Here, visitors can find out for themselves that the creative process of art is just as worthwhile as showing the finished work.
Artist Liesbeth Labeur will be working in the Auditorium of the Kunsthal in the month of July. Labeur's drawings show an intimate, inward-looking world. In the same way, she works with groups of people from different cultures. In this way she allows all living worlds and manuscripts in her work to speak the language of art together.