Talks & Workshops
Deep dive Claude Cahun
22 May, 2022
During the opening weekend of the exhibition 'Claude Cahun. Under the skin' in the Kunsthal on Sunday 22 May, you can take a deep dive into the world of the artist, writer and activist Claude Cahun and find out more from the interactive talk by tattoo artist Wietske de Blauw from The Ink Society. What is the connection between body decoration and gender? Film makers the Transketeers explain how they tell gender-diverse stories in their films and documentaries. And you can take part in the activity yourself! Creep into the skin of Claude Cahun in photo workshops by Jentel Schiettekatte and Rik Versteeg.
Talks & workshops sunday 22 may
| | |
| --- | --- |
| When | What |
| 13.30 - 14.30 hrs | In the skin: interactive talk by  Wietske de Blauw from The Ink Society |
| 14.30 - 15.00 hrs | Talk by the Transketeers |
| 15.00 - 16.00 hrs | Collage workshop by photographer Jentel Schiettekatte* |
| 15.00 - 16.00 hrs | Photography workshop by artist Rik Versteeg* |
You can join in the activities free of charge upon presentation of a valid Kunsthal admission ticket. 
* Do you want to be sure of a place in the workshops? Then register now at aanmelden@kunsthal.nl
IN THE SKIN: INTERACTIVE TALK BY WIETSKE DE BLAUW FROM THE INK SOCIETY
13.30 - 14.30 hrs
For everyone above the age of 12 years
Tattoo artists work on body decoration on an everyday basis. What role do gender assumptions play in this? By creeping into the skin of a tattoo artist, you can reflect in this workshop on how we as a society think about body decoration. Which colours are specifically masculine? Are there symbols that are regarded as typically feminine? And what if somebody wants a tattoo to make a neutral impression? In this workshop Wietske de Blauw from The Ink Society gets you to think about the implicit gender assumptions in our society and their corresponding physical expression.
TALK BY THE TRANSKETEERS
14.30 - 15.00 hrs
For everyone above the age of 12 years
The Transketeers is a film makers collective consisting of Bart Peters, Jonah Lamers and Chris Rijksen, three trans males who tell unheard and invisible stories based on the original source. In this talk the Transketeers explain how in their film work and personal lives they attract (and hold on to) attention for the gender diversity that is there and what it does for them.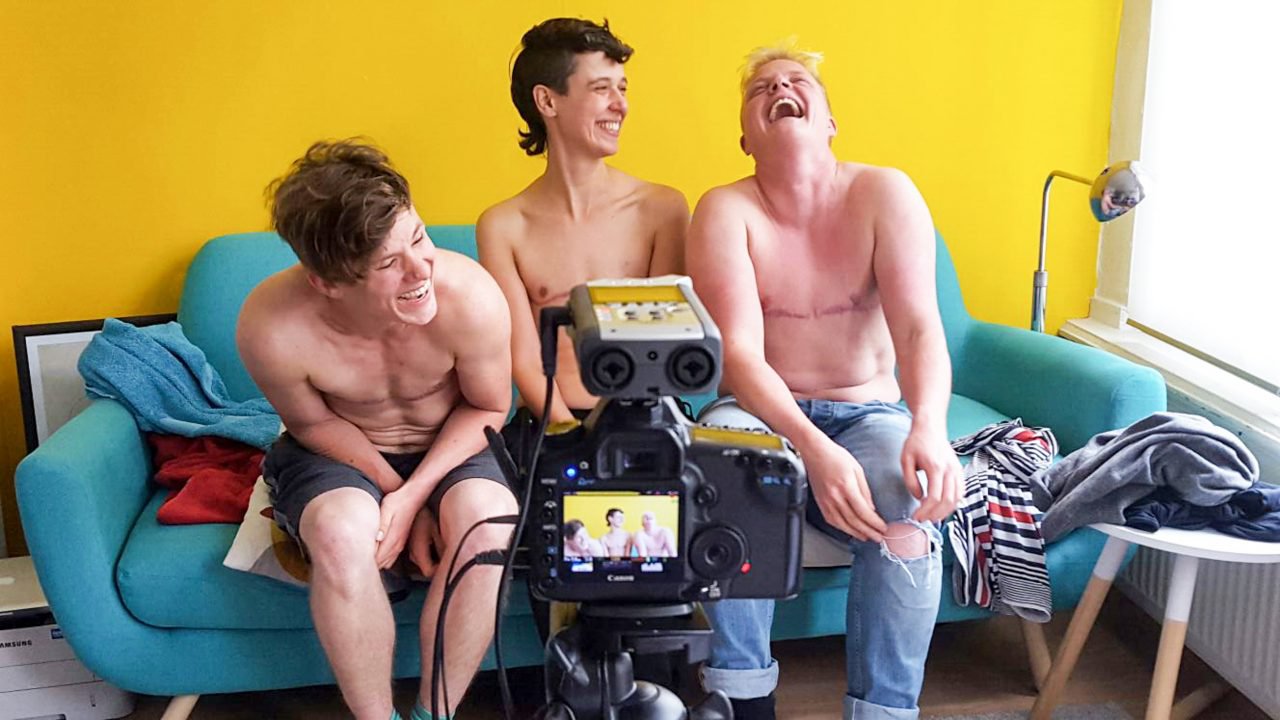 COLLAGE WORKSHOP BY PHOTOGRAPHER JENTEL SCHIETTEKATTE
15.00 - 16.00 hrs
For everyone above the age of 12 years
Cahun's photos and collages are expressive with a concealed political edge to them. Photographer Jentel Schiettekatte uses this workshop to get the public to think further about how they stand in this society. What do you find important, and what could or should be changed? Photography and collage are used as the medium in this workshop.
MASKS AND PORTRAIT PHOTOGRAPHY WORKSHOP  BY RIK VERSTEEG
15.00 - 16.00 hrs
For everyone above the age of 12 years
In the 1920s Claude Cahun moved in the circles of experimental theatre groups in Paris. This is reflected in her self-portraits in which she often photographed herself wearing masks. In this workshop queer artist Rik Versteeg engages the audience to show who you are using self-made masks. Once they have made these masks, the participants take portrait photos of one another in groups. Creep into the skin of Claude Cahun! 
PHOTO AND VIDEO
Photo and video recordings will be made during the talks and workshops. By taking part in the activities, you agree to the use of these photo and film images by Kunsthal Rotterdam.
See also