In honour of Pameijer's 85th anniversary, Kunsthal Rotterdam proudly presents the exhibition No Less a Person (in Dutch: Niemand Minder).
Five people with a disability, all clients of the Pameijer Foundation, will be talking about perceived image and preconceptions, and examining their daily lives, concerns and issues. They tell their stories, which are illustrated with portrait photographs and short documentaries set against the background of psychiatric and social care in the Netherlands. At the invitation of Pameijer and Kunsthal Rotterdam, Martijn Engelbregt has realised an art installation on the subject of preconceptions and 'being normal'.
Perceived Image
People with a disability are prominent in the news, whether it concerns the maltreatment of mentally disturbed patients in care homes, a Dutch talk show featuring a new soap opera called 'Downistie', or the television programme 'Down with Johnny', in which the host examines the world of people with intellectual disabilities. The media determines how a subject's image is perceived. What we know about autism, depression, Down's syndrome or schizophrenia is often what we have learnt from newspapers or films such as Rain Man and Me Too (original title: Yo,También). This exhibition illustrates how media attention over the years has contributed to the formation of a distorted image. The installation by artist Martijn Engelbregt also focuses on cliché images, preconceived ideas and pigeonholing. Visitors are able to confront their own preconceived ideas in this prominent artwork that he has made specially for the exhibition. Engelbregt has created an environment that creates confusion and poses questions.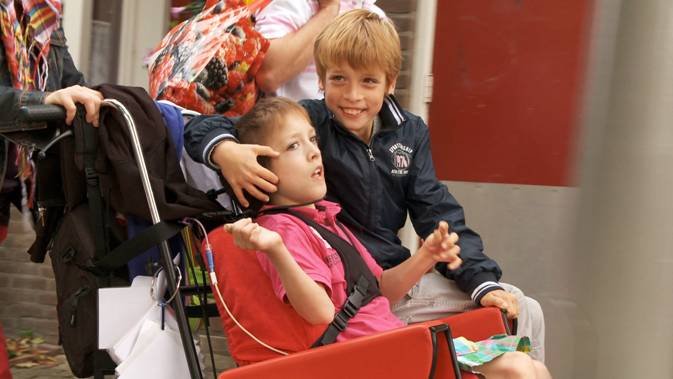 Participation
If a person does not fit in with what is considered 'normal', preconceptions often follow.  But isn't everyone different? In the exhibition, five Pameijer clients, Pim (10), Cora (68), José (36), Patrick (23) and Ton (28) talk about how, sometimes with ups and downs, they work, live and spend their free time. In video clips, they talk about their lifestyles and how other people see them. The interviews are complemented by life-size photographic portraits by photographer Krijn van Noordwijk, who provides his own individual perspective on these people. The portraits of the Pameijer clients are surprising and touching, and show that being 'different' is very much a relative matter.
No Less a Person Festival
The exhibition at Kunsthal Rotterdam is part of the No Less a Person Festival (in Dutch: Niemand Minder Festival,  #NMfestival). The festival also includes a film week at the Lantaren Venster theatre in Rotterdam (10 to 15 October) with films such as Me Too (original title:Yo,También), Snowcake and Knetter, and a Congress for healthcare professionals and clients to be held in the Van Nelle Design Factory (Van Nelle Ontwerpfabriek) on 12 October. The No Less a Person Festival is an initiative by Pameijer, which this year celebrates its 85th anniversary. Pameijer works according to its vision that people with a disability belong in our society just like everyone else.