All you can Art 4
In the spotlight
1 June, 2019 - 25 August, 2019
The All you can Art team has already been working for seven weeks this summer in Rotterdam in the open workshop in the Kunsthal, but especially on the various locations in the Afrikaanderwijk neighbourhood in South Rotterdam and with the partner institutes in the city. This page turns the spotlight on a number of the many special projects, meetings, collaborations and visits. The Summer School will open on Tuesday 23 July to enable visitors, students and artists to come into contact with one another even more. Follow the artists and participants in All you can Art and visit one of the locations soon.
IN CONVERSATION WITH PRIS ROOS (1984)
A close neighbour of Feyenoord, and an artist
Groene Hilledijk 272
How did you come in contact with AYCA?
"Through Het Gemaal op Zuid (a former pumping station in the south of the city, now used as an exhibition space). I know Alexandre, the curator of Het Gemaaal op Zuid, and he said that I should try it out. After the opening, I realised that it was just around the corner and I walked straight in."
What sort of art do you enjoy creating?
"I'm currently busy with a wall painting in the basement, and make portraits of migrants. I use various materials, such as pastels, acrylics and wood, and try and fill the whole surface, to put something huge on the wall. I can't paint on my own walls at home without permission, as I live in rented accommodation. Here, you can do what you like. I thought, 'This is my chance!'."
What's it like to work here, in the south of the city? On Groene Hilledijk, in your neighbourhood?
"Super! I make portraits of people from around here, so to be able to work here myself, to be actually located on this street, is great. It's really good to be among the people in this way, and have a workspace and atelier at the same time. I literally just step out of the door and here I am."
If AYCA could have a permanent place here, would you like that too?
"Absolutely! I would hope that artists would be inspired to come and work here. I have an atelier myself in Charlois (a neighbourhood south of the city), where there are many artistic initiatives. Here, there's actually not so many, except for Het Gemaal op Zuid, the only place I know of. Groene Hilledijk is, in principle, a neighbourhood atelier, where people enjoy the sort of freedom they don't have at home or in their own surroundings. Many people would like to be creative but they don't have the space or the materials to achieve this. On Groene Hilledijk, people can just show up and do what they want."
SUMMER SCHOOL HAS BEGUN!
It's the fourth time for the Summer School! David Bade has already welcomed the students, and already set the tone for the forthcoming weeks. It's about learning, and being open for each other and our surroundings. Like 'All You Can Art', the Summer School will play out not only in the Kunsthal but also in locations in the south of the city ('Zuid'), allowing the students more opportunity to search for possibilities in public areas. Tirzo Martha has his own perspective on the school. The way he sees it, the Summer School is more about custom-made guidance than about actual schooling. It's an investigation, in which you go in search of what you want and what you are able to do.
When everyone introduced themselves, it became apparent how diverse the group is this year. The 'mix' includes people from the theatre world, some who are finishing high school or who are preparing for higher education, and students who are learning a trade. Among the mature students are some who have reached pension age. Take Dik Kreuk for example. He took part last year and now forms part of the permanent team. Although he always had an interest in art, he realised for the first time at the Summer School his own capacity to create art. Following his participation at the school, he has kept in touch with many artists and has managed to provide a helping hand for all sorts of projects. This summer, you will most probably find him at the Open Atelier during Kunsthal LIVE ON SUNDAY and at our Groene Hilledijk location.
Follow the progress of the Summer School during the coming weeks on our blog!
In conversation with Johanna Franco Zapata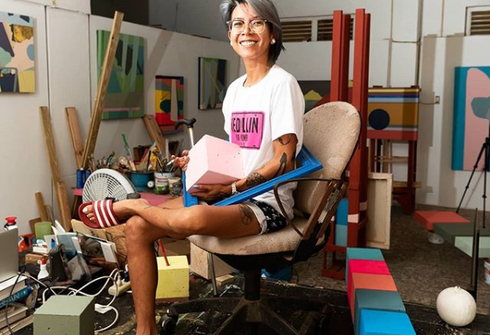 I want to confront the public with the cruel practice of branding. I want to 'unbrand' people by tattooing them. An interview with the artist Johanna Franco Zapata.
READ HERE MORE ABOUT HER PROJECT 'UNBRANDED TATTOO'
We sell reality
Location: Groene Hilledijk 272-274
The team of IBB artists is working every day to bring about new insights and connections between people, art and culture. To this end they work with numerous neighbourhood initiatives, local artists and partners. For instance, in connection with the project 'We Sell Reality', the artist Rieneke de Vries examines why commodities often migrate far more easily than people. In her quest for the origin of products, she holds discussions with shopkeepers, using the open workshop in the busy Groene Hilledijk shopping street as her operational basis. The tangible result of this series of interviews will be a special set of tableware.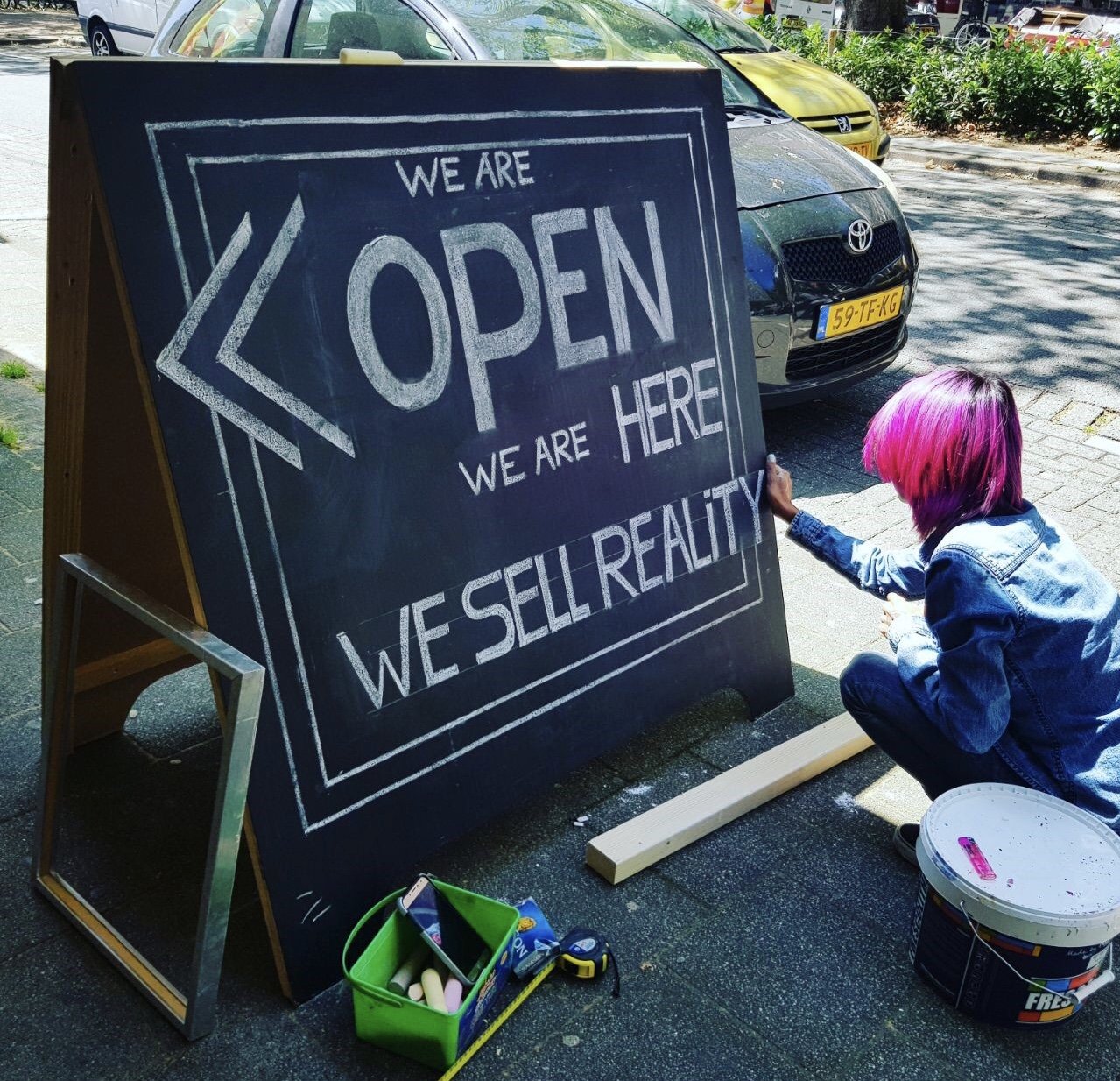 Free art on the market
Location: Afrikaanderplein
The artist David Bade has spontaneous encounters with market vendors and visitors to the Afrikaandermarkt. He challenges them to have their portrait taken and makes the first sketches on the spot on "For Sale" boards. The artist Elvis Chen does it on the phone: there is a hotline from Gallery 3 in the Kunsthal to Gemaal op Zuid. Chen makes portraits of the callers on the basis of their own descriptions, and they can collect them during the All you can Art Finissage on Sunday 25 August – if they have not already been to one of the locations to play an active part in All you can Art!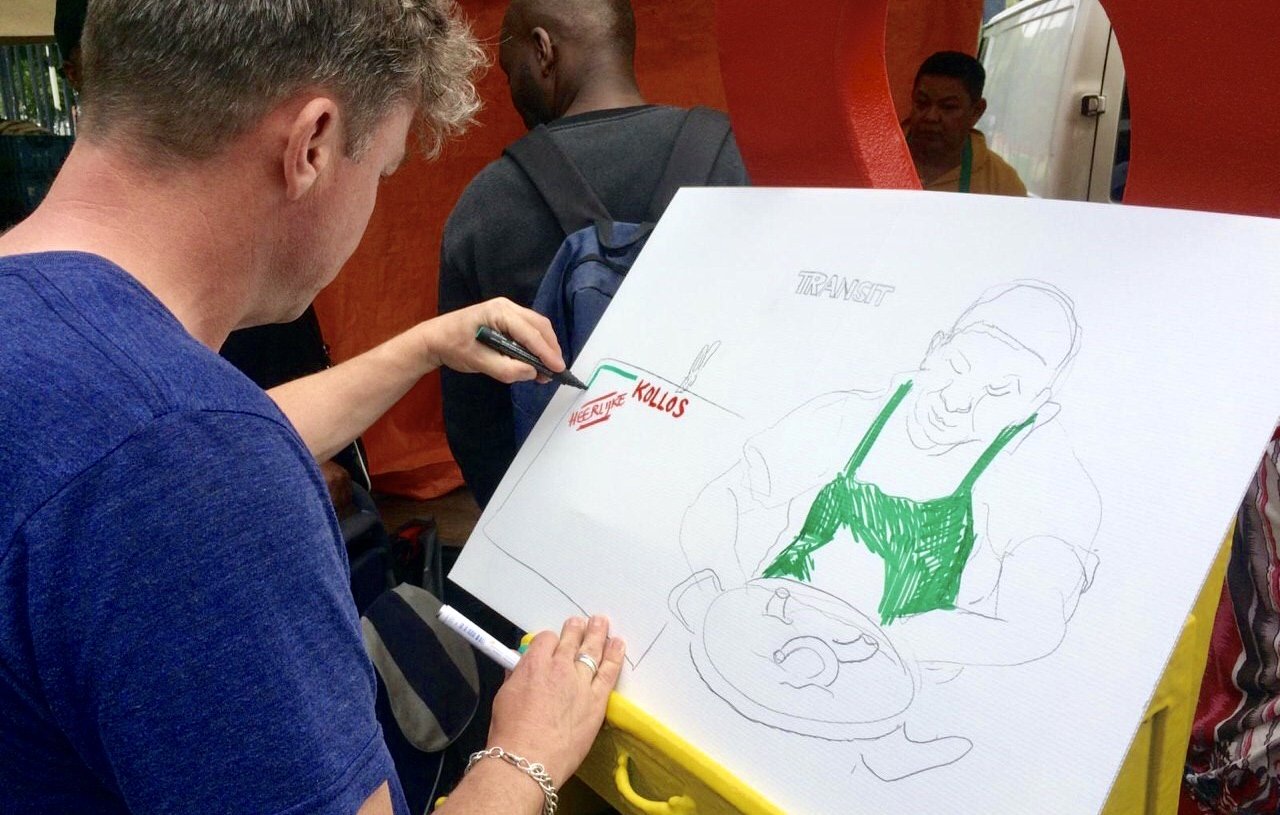 Analog connections
Location: Het Gemaal and the Kunsthal
Now that the artists are spread out over three locations, more creativity is called for to keep the communication going. A nice way of staying in contact is by means of the old-fashioned telephones that hang in Gemaal op Zuid and the Kunsthal. The artists Elvis Chen and Tittel Tattle delight in using them, but more and more visitors pick up the phone in the hope of a reaction from the other end. In this way a little bridge to South Rotterdam is literally created.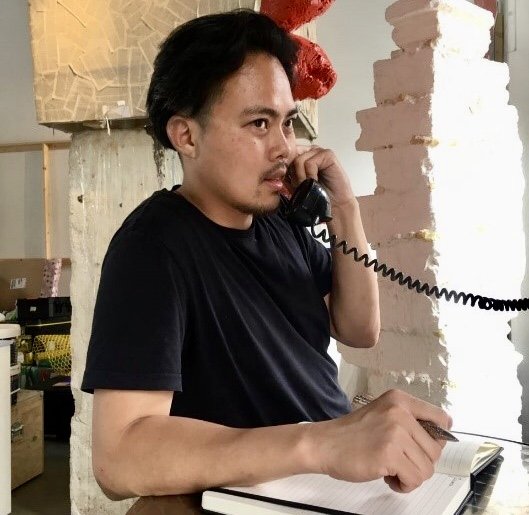 Masterclass David Bade & Tirzo Martha
Location: Kunsthal Rotterdam
During this masterclass David Bade and Tirzo Martha went into the methodology of Instituto Buena Bista (IBB) Curaçao and they gave their views on the steps that lie between art education at higher professional education level and the practice of being an artist today. All you can Art and Instituto Buena Bista Curaçao approach art from a human perspective in which art does not just belong to the maker but to everyone. You will find a summary of the Masterclass held on Thursday 6 June here.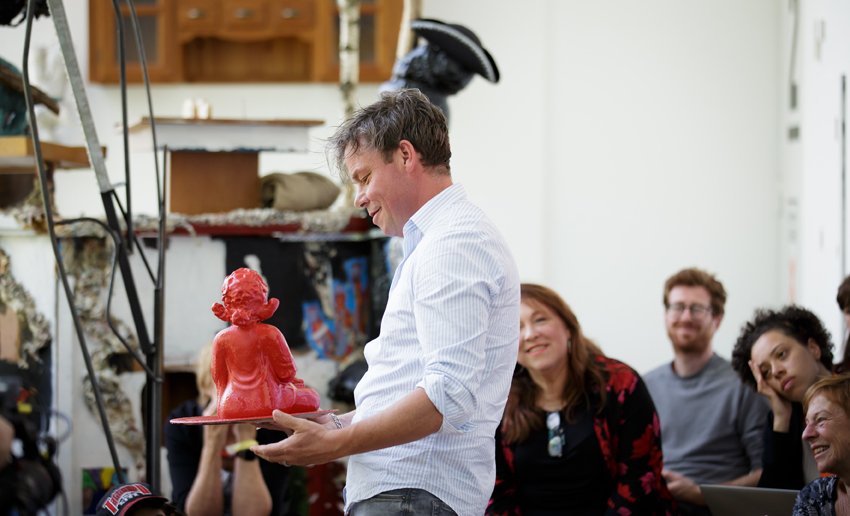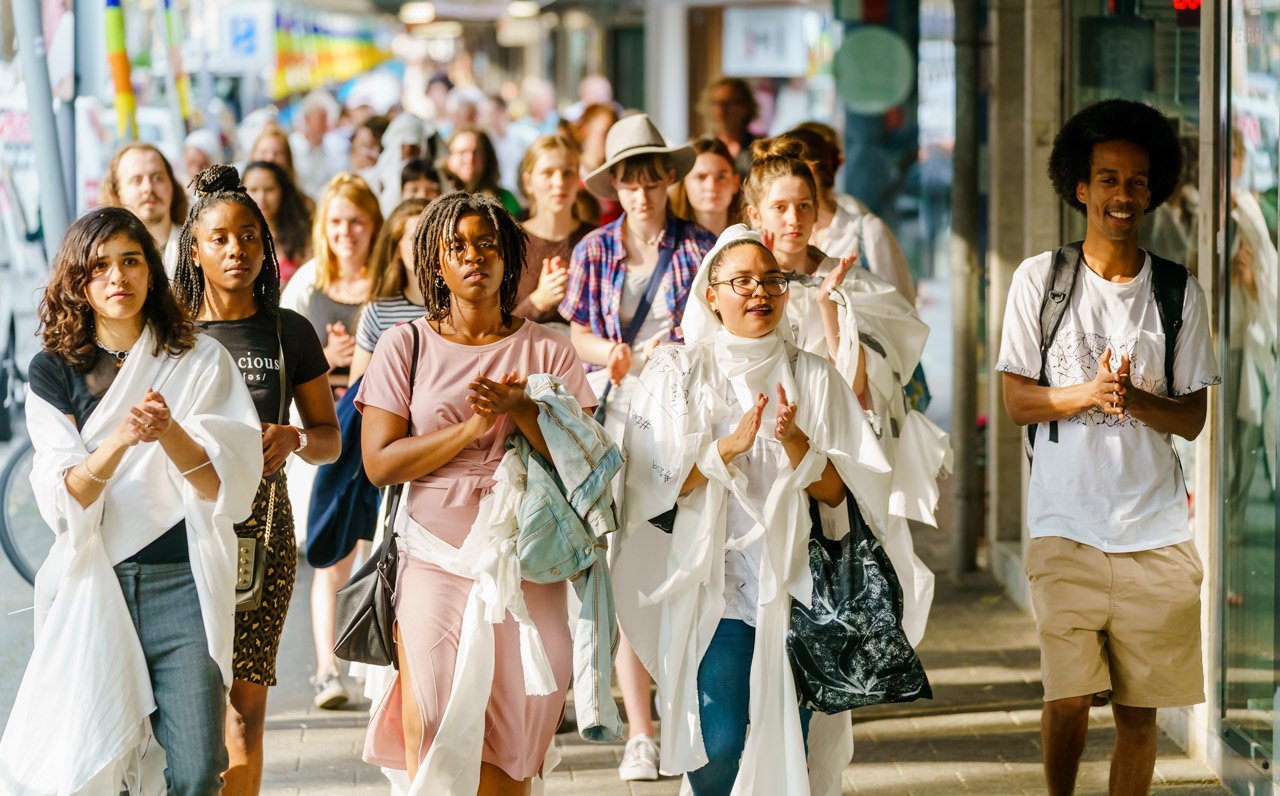 Festive Kick-off All you can Art
Location: Het Gemaal op Zuid & Atelier Groene Hilledijk
It was an incredible All you can Art party last Saturday, 1 June, at Het Gemaal op Zuid! A summery reunion with many partners, participants and artists from previous All you can Art (AYCA) editions. With a new and enthusiastic group of Summer School students treating everyone to an advance performance led by the artist Roxette Capriles, and a great speech by the Rotterdam alderman Said Kasmi, who is a staunch supporter of the programme, AYCA was festively launched in Rotterdam-South, in the Feijenoord area. After the kick-off at Het Gemaal op Zuid (the Rotterdam-South Pumping Station), everybody went on to visit the studios on the Groene Hilledijk. David Bade, Tirzo Martha and the Instituto Buena Bista team can't wait to start working again with the Kunsthal, and with familiar and new partners this summer. It is their goal to give everyone, and we literally mean everyone, an opportunity to participate, make art, learn and discover.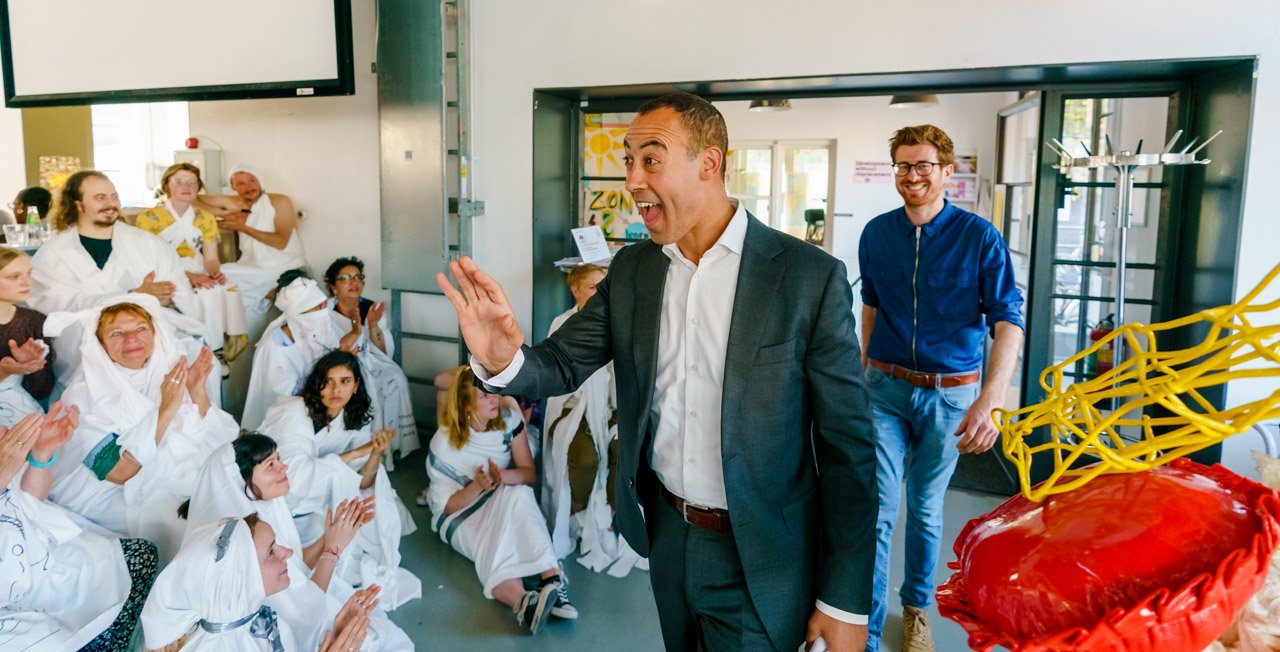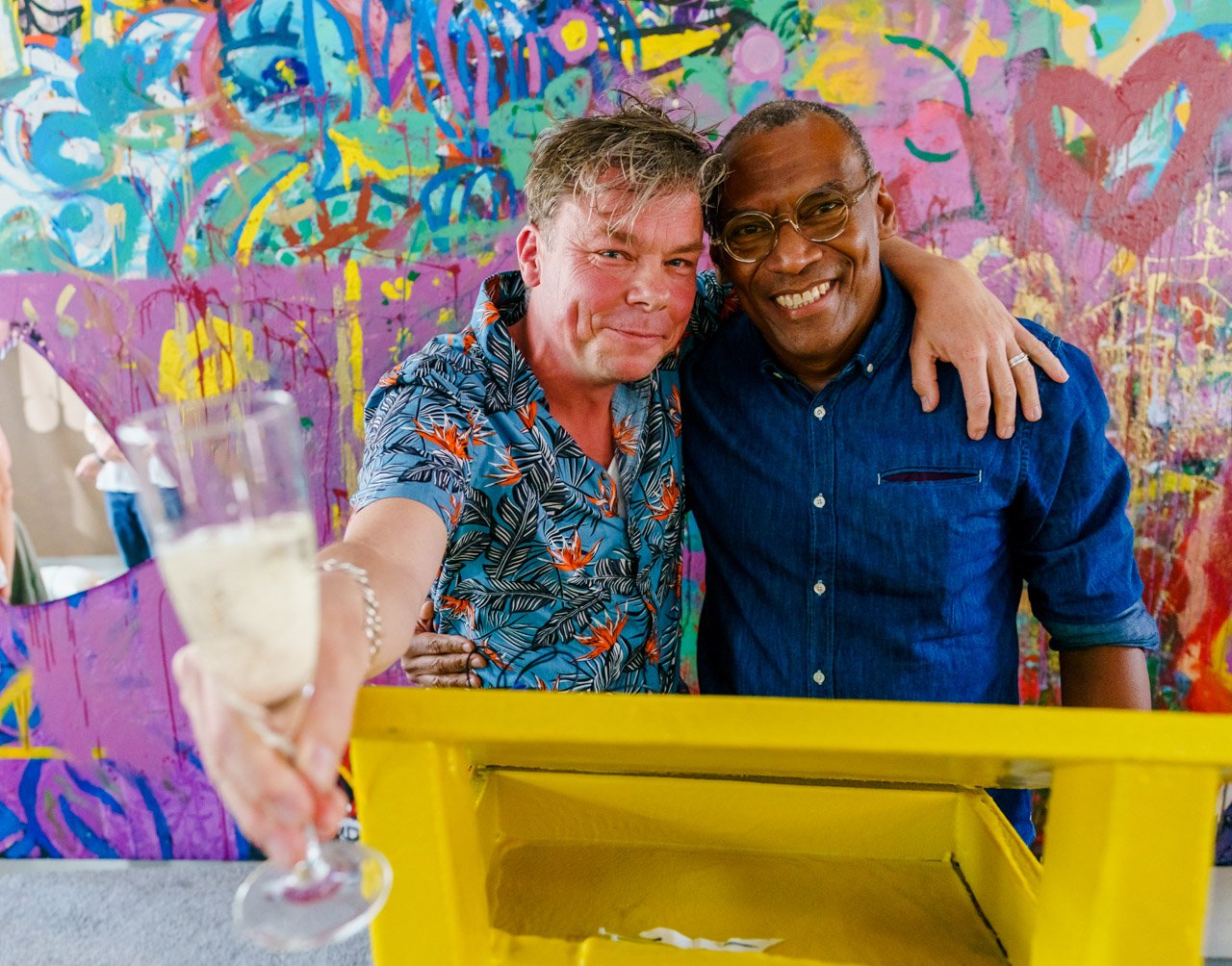 DISCOVER MORE
See the reportage!
Once again this summer OPEN Rotterdam is covering some important events and meetings. View the festive launch on Saturday 1 June here.