In collaboration with the Willem de Kooning Academy, the Kunsthal Rotterdam is presenting a series of masterclasses – exclusively for students and Kunsthal Friends – by exceptional artists. After inspiring masterclasses by artist Melanie Bonajo, architect Rem Koolhaas, artist and innovator Daan Roosegaarde and others, it is the artists David Bade and Tirzo Martha's turn on Thursday 6 June. On the occasion of All you can Art, they are giving a masterclass in the Auditorium of the Kunsthal. Dutch spoken.
David Bade and Tirzo Martha will discuss their working methods for All you can Art and explain their vision on the role art can play in society. The significance of different types of platforms and their relationship to the changing role of the artist will also be addressed. After all, in 2019 artists are no longer able to work in an unambiguous way. What role do platforms and physical exhibition spaces such as galleries and museums therefore play in relation to other methods of presenting art? Part of this masterclass will be a discussion about these themes with students of the Willem de Kooning Academy and other attendees.
The IBB is a centre for contemporary art on Curaçao and was founded by the artists David Bade (Curaçao, 1970) and Tirzo Martha (Curaçao, 1965) in 2006. The IBB is a prep school and venue for contemporary art, scouting the island's young talent, coaching them and preparing them for the right type of further education in the creative field. On Curaçao, the IBB is located on the premises of an active psychiatric institution – Klinika Capriles – where patients, pupils, amateurs and artists are able to mingle, which allows for incidental and planned collaborations. 
Since 2015, the Kunsthal has been working together with IBB under the name 'All you can Art', creating an exhibition studio to which everyone can contribute.
REGISTRATION FOR STUDENTS
The price of student registration for the masterclass is €7,50, including a visit to the exhibition 'All you can Art'.
REGISTRATION FOR FRIENDS OF THE KUNSTHAL 
Kunsthal Friends can register for the masterclass by sending an email to vrienden@kunsthal.nl. Participation in the masterclass is free of charge for Friends of the Kunsthal. Would you like to know more about the advantages of becoming a Friend of the Kunsthal? Click here.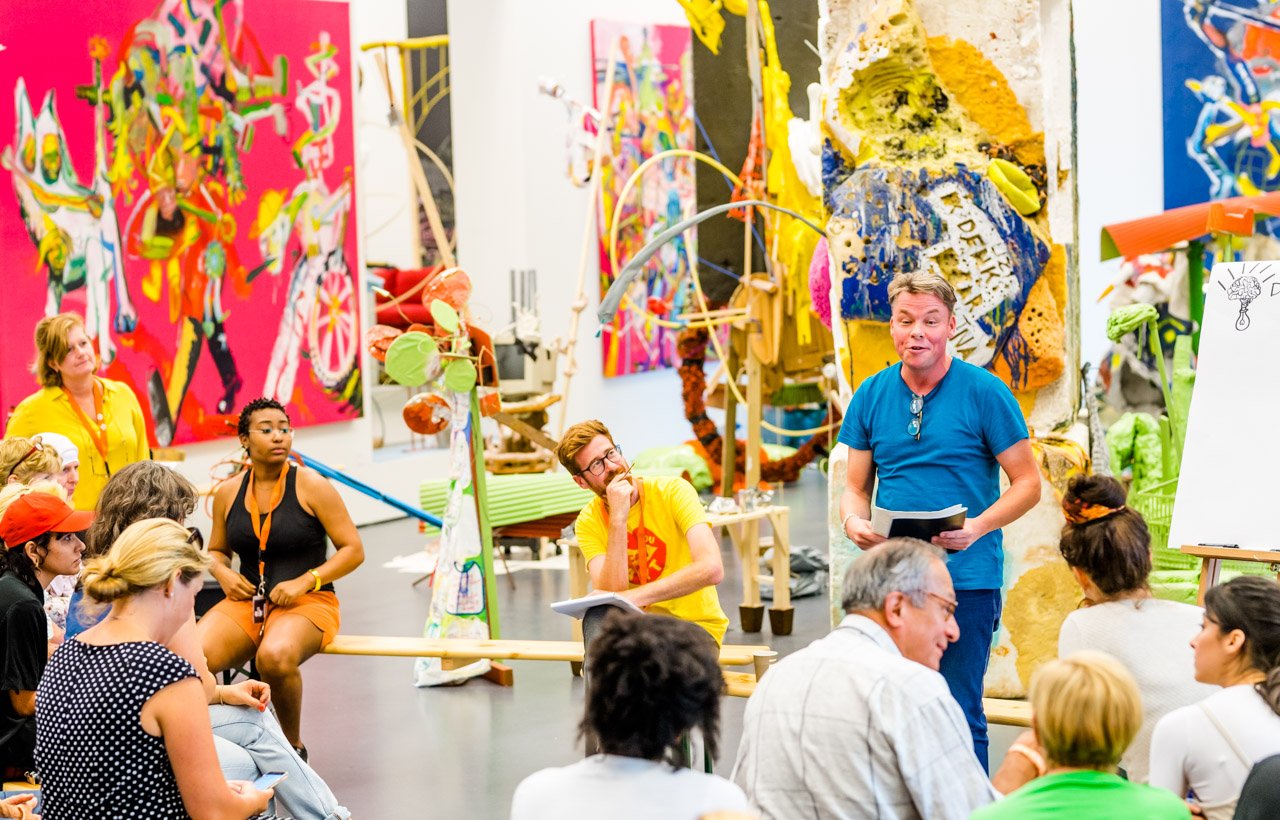 Program 6 June

| | |
| --- | --- |
| 10.30 - 11.00 hrs  | Door open |
| 11.00 - 13.00 hrs | Masterclass David Bade en Tirzo Martha |
| From 13.00 hrs | Oppertunity to visit the exhibition studio 'All you can Art'. |
Discuss your portfolio with David Bade and Tirzo Martha
Students who want to discuss their portfolio can do so during the term of All you can Art (1 June to 23 August). Mail your portfolio, and a preferred date and time to educatie@kunsthal.nl, a suitable moment will be scheduled in consultation.
Your portfolio consists of:
- a selection with a maximum of 10 photos, minimum resolution 1920 x1080 (preferably higher).
- brief explanation of your work of max. 500 words.
After the masterclass there is an opportunity to visit the All you can Art exhibition studio in the Kunsthal.
See also